New York City
The European Fine Art Foundation's New York shows have grown in stature and have become a brand in the world of art fairs, emphasis on "world." The 95 exhibitors, who participate at the discretion of TEFAF and by invitation, come from Spain, Germany, France, the U.K., the U.S., Austria, Hong Kong, the Netherlands, Sweden, Monaco, Switzerland, Italy, Argentina, Portugal, and BelgiumOfferings date from antiquity to 1920 and are vetted two days before the fair's opening by committees made up of curators, independent scholars, and advisors. Nine pages in the fair's catalog explain the vetting process and list the names of those on the vetting committees for each category of offerings. Furthermore, "most exhibits are checked against the Art Loss Register (ALR) database of 500,000 items subject to a claim," the catalog reads.
This sculpture of Diana by Edward F. McCartan (1879-1947) was chosen to be on the front cover of TEFAF's catalog. Bronze and gilt, with a dark brown patina, the 1922 signed, dated, and numbered bronze with a Roman Bronze Works, New York, foundry mark on the rear side of the base, is 23½" x 15¼" x 12¾", and it was priced at $475,000 by Taylor | Graham, New York City. It is considered the artist's signature piece. The dealer sold several pieces of sculpture, and during the last day of the fair a client bemoaned that he hadn't visited earlier. "You sold all the good stuff," he said, remarking that the booth was filled with red dots.
This bronze relief, circa 1919, by Elie Nadelman, Detail of Autumn, was $65,000 from Bernard Goldberg Fine Arts.
Head of a Woman by Elie Nadelman, walnut, 1912-13, descended from the artist to his son, Jan, then to his grandson, Philip. Bernard Goldberg asked $1.4 million for it.
So it was a surprise when police officers and prosecutors entered the Park Avenue Armory on Friday, October 27, 2017, just as the fair was opening to VIPs and the press, and seized from the booth of London dealer Rupert Wace Ancient Art a limestone relief of a Persian guard from the ruins of Persepolis in Iran. In an e-mail the following day, the dealer explained that the relief had been donated to the National Museum of Fine Arts in Quebec about 1950-51 and was exhibited openly there until 2011 when it was stolen. The museum was compensated by an insurance company, and when the relief was recovered in 2014, the museum opted to have the insurance company keep possession. Rupert Wace purchased it from the insurance company. "We are currently investigating the matter and will form a conclusion once we have evaluated the situation," Wace wrote.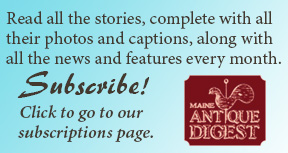 No expense is spared to transform the Park Avenue Armory into an international marketplace where champagne is flowing, oysters are constantly being shucked in the aisles, and several languages are spoken. Collectors, curators, interior designers, and socialites cram the corridors, discussing the fair's offerings while air kissing and munching on smoked salmon and lamb sliders. (This IS a tough assignment.)
Over five eight-hour days, October 28-November 1, as well as at the afternoon opening for VIPs and an evening benefit, dealers could be seen changing their shoes and drinking bottled water to stay comfortable and hydrated. Some popped cough drops to keep from losing their voices—it's a marathon for them, and they seemed to relish the environment.
This large portrait of Betty Wertheimer by Giovanni Boldini (1842-1931) attracted lots of lookers. Signed and dated 1902, this 61¼" x 40½" oil on canvas was priced at $1.4 million by Robilant & Voena, London, Milan, and St. Moritz. Boldini was introduced to the sitter by John Singer Sargent. Many visitors to the booth thought the portrait was by Sargent.
This set of four English alabaster swans, second quarter of the 17th century, was displayed down the aisle of the second floor of the armory. Attributed to Nicholas Stone (1586-1647), they were 22¼" x 26¼" x 15½" each. Tomasso Brothers, London and Leeds, U.K., asked $1.1 million for the set.
Eguiguren Arte de Hispanoamerica, Buenos Aires, offered this complete set of equestrian gear, silver and leather, including a saddle, stirrups, spurs, reins, whip, bridle, dagger, and gaucho cup. From Uruguay, late 19th century, the set was priced at $95,000.
Of the 95 exhibitors, 12 were new to TEFAF New York Fall. Only a handful of the exhibitors specialize in American art, furniture, silver, jewelry, or decorative arts. They are Thomas Colville Fine Art, Guilford, Connecticut, and New York City; Bernard Goldberg Fine Arts, New York City; Hirschl & Adler Galleries, New York City; Lillian Nassau, New York City; S. J. Shrubsole, New York City; Elle Shushan of Philadelphia; and Taylor/Graham, New York City and Greenwich, Connecticut. All but Taylor/Graham will be exhibiting also at the Winter Antiques Show.
Thomas Colville Fine Art, Guilford, Connecticut, and New York City, brought American and European paintings and works on paper to its first TEFAF New York Fall. An American paintings curator from the Metropolitan Museum of Art visited the booth during the opening afternoon and said she was glad to see Colville exhibiting. "We need more American art," she said. Seen above is Summer in New Hampshire, 1852, by John Frederick Kensett (1816-1872), a 17 3/16" x 25 1/8" oil on canvas, monogrammed and dated, and priced at $535,000. A visitor to the booth (below) seemed taken with Soren Emil Carlsen's Connecticut Hillside, circa 1920, oil on canvas, 29" x 27", signed and priced at $75,000.
Holiday, Headlands, 1900-05, by Maurice Brazil Prendergast (1859-1924) was available from Hirschl & Adler Galleries, New York City. The 15½" x 11¼" watercolor, signed and inscribed, had a price of $195,000.
This 37-star ship's flag, cotton and silk, 7'5" x 9'8", from the collection of a Belgian flag collector, was featured on the main wall in the booth of Galerie Delalande. The dealer of marine and science instruments, tobacco and opium objects, antique canes, and curiosities asked $70,000 for the flag.
As Liz Feld, managing director of Hirschl & Adler, said, "I like being one of the few American galleries here. It makes us stand out." Hirschl & Adler displayed furniture by Thomas Seymour and A. & H. Lejambre, anchored by a Tiffany clock, with paintings by John Singer Sargent, Childe Hassam, Maurice Brazil Prendergast, William Michael Harnett, and George Caleb Bingham.
Bernard Goldberg dedicated his booth on the armory's second floor to Elie Nadelman, "the most important American sculptor of the early twentieth century," the dealer exclaimed during a tour of his booth. Several pieces of sculpture had been acquired from Philip Nadelman, the artist's grandson, Goldberg explained. The dealer has his own private collection of Nadelman as well, he added. He sold a bronze sculpture of a woman's head to a private collector, and as Ken Sims, gallerist at Goldberg, pointed out, "Our last time at TEFAF, we had numerous inquiries and eventually sold most of what we offered."
Several dealers reported a similar paradigm. "There's no sense of urgency," stated Raffaello Tomasso of Tomasso Brothers Fine Art, London. "It's a long drawn-out process. These are some very big numbers, and people don't just drop a million dollars." In the meantime, Tomasso Brothers sold a bronze sculpture by Pietro Cipriani (1680-1745), Farnese Hercules, "in the region of $200,000," and a pair of bronze oval medallions portraying Neptune and Venus with Cupid by Lodovico Pogliaghi (1857-1950) for approximately $175,000, both to U.S. private clients.
This rosewood table by A & H Lejambre, Philadelphia, 1880, with inlays of mother-of-pearl, glass, ebony, and pewter, was priced at $175,000 by Hirschl & Adler Galleries, New York City. "It has a frivolity," said Liz Feld, director, "and it is rare. The dealer offered three Lejambre tables, each unique.
Elle Shushan had several red dots next to her portrait miniatures within a half-hour of the fair's opening, and her jewel box-like booth was consistently filled with admirers and buyers.
Thomas Colville, new to the fair this time, highlighted works by Winslow Homer. A curator from the Metropolitan Museum of Art was seen in his booth on opening day admiring and discussing Homer with the dealer. By the last day, Colville said he had sold two paintings, both to private collectors, one by George Luks and one by French Impressionist Henri Martin, and he had "serious interest" in three more. "We did very well," the Connecticut and New York City dealer said.
Arlie Sulka of Lillian Nassau conducted business in the booth and on her cell phone throughout the run of the fair. "We had a wonderful response to our material, and there was a diverse crowd of collectors and scholars. It's a show of great masterpieces. We sold in every category we brought—Tiffany lamps and glass, French ceramics, and American metalwork," she said in a post-show phone interview.
Jeff B. Rabin, who, along with his Artvest partner, Michael Plummer, is a moving force behind TEFAF's coming to New York, said during the opening on October 27, "We're beyond pleased with the second edition. The crowd is exactly who we wanted—museum curators, collectors, and notable personalities from all over the globe. Museums are purchasing. There's competition to get into this show, and we have an extensive wait list." The fair attracts the "most dynamic dealers from all categories," stated Rabin, now a managing director of TEFAF New York, who was running on overdrive. He then excused himself as he had been called away to address an opening-day problem. Managing a global art fair takes a village.
TEFAF Maastricht will take place March 9-18, and TEFAF New York Spring arrives May 4 and will run through May 8. Further information is available at (www.tefaf.com).
---
Originally published in the February 2018 issue of Maine Antique Digest. © 2018 Maine Antique Digest