New York City
The tenth American Art Fair opened its doors to an enthusiastic crowd on Saturday evening, November 11, 2017, ushering in American Art Week in New York City with a private invitation-only preview. The show ran through November 15. Seventeen dealers of 19th- and 20th-century American art covered the walls of three floors of the Bohemian National Hall on the Upper East Side of Manhattan, a couple of blocks from Sotheby's, whose American art auction took place on Monday, November 13.
Remi by Will Barnet (1911-2012), 1962, 31" x 26", was available at the booth of Alexandre Gallery, New York City.
Ocean Headland, Black Head, Monhegan by George Bellows (1882-1925), 1911, oil on panel, 11" x 15", was shown at Alexandre Gallery's booth.
Plums in Dish, 1928, by Georgia O'Keeffe (1887-1986), oil on board, 7" x 9", was priced at $850,000 by Nedra Matteucci Galleries.
By Marsden Hartley (1877-1943), Summer en Route, Moraine-Dogtown, 1931, had a red sticker within the first hour of the fair. It was in New York City dealer Jonathan Boos's stand. The oil on board, 20" x 18", was signed, dated, and inscribed on the reverse.
The well-timed opening made for a great guest list—curators, dealers, and collectors in town for the auction all came by to see the landscapes, portraits, still lifes, studies, and sculpture for sale.
Thomas Colville, a founder of the fair, said he sold three paintings and reported that dealers were pleased with the 2017 fair. "The lectures bring in people, and we'll have more next year," he said the following week while waiting for Christie's American art auction to begin. "The fair had a good crowd," he added.
This past November the three auction houses split the weeks of their American art auctions—Sotheby's held its auction on November 13 at 4 p.m., Bonhams chose November 20, and Christie's held its sale two days before Thanksgiving on the morning of November 21. Christie's was well attended, surprising many who thought the holiday would interfere with the auction date.
Taylor | Graham, New York City, showed sculpture by Elizabeth Catlett (1915-2012) and Wheeler Williams (1897-1972) among others. On the back wall from the left are Catlett's Head, bronze, 7" x 2½" x 5", with base 9¼" x 4" x 5¾", tagged $22,000; and Sister in the Wind, 11½" x 3" x 3¼", priced at $12,000. In the foreground is Head of an African Man, 1924, by Williams, bronze with dark brown patina, 75/8" x 3¾" x 5", mounted on a black marble base, 53/8" x 3¾" x 3¾", overall height 13", tagged $30,000. Catlett's Stepping Out, 1987, 31" x 9½" x 7", was priced at $85,000.
Charles Sprague Pearce (1851-1914) painted Moments of Thoughtfulness in 1882. The oil on canvas, 21½" x 29" was priced at $225,000 by Driscoll | Babcock, New York City.
James Carroll Beckwith (1852-1917) painted Ladies on the Lawn circa 1890. The 113/8" x 15¼" signed oil on panel was priced at $165,000 at the booth of Avery Galleries.
The opening of the Art Fair was so crowded that the two manned elevators ran constantly for four hours. Bars were set up on two of the three floors, and the wait staff passed hors d'oeuvres and desserts as attendees grazed and viewed the art and engaged in conversation. For example: "Great art is like an old girlfriend. It keeps coming up, and you wonder what could have been," said one collector as he examined a George Inness painting in Thomas Colville Fine Art's booth on the mezzanine.
The dealers who return each year are usually in the same location, making it easy for collectors and curators to locate their favorites.
Morning and a Sack of Meal by Thomas Hart Benton (1889-1975), circa 1933, signed, oil and tempera on masonite, 14½" x 24¼", was priced at $1.5 million by Debra Force Fine Art.
Thomas Sully (1783-1872) painted this portrait, Girl with a Fan (Blanche Sully), in 1837. Debra Force Fine Art, New York City, asked $85,000 for the signed and dated 20" x 17" oil on panel.
For Richard Rossello of Avery Galleries, Bryn Mawr, Pennsylvania and New York City, "the fair was terrific. It was the only show in town, frankly. Dealers brought wonderful material, and there was nice traffic throughout the week. The opening was strong, and we sold a number of things after. In fact, we just sold something yesterday to someone we met at the fair. I'm very pleased," he said in a telephone interview after the Thanksgiving break.
The well-attended complimentary lectures included "The Butterfly and the Ashcan: The Impact of Whistler on The Eight and Their Circle," given by writer and art historian Avis Berman, and "American Painting at Mid-Century" delivered by Melissa Wolfe, curator of American art, St. Louis Art Museum.
The captions illustrate the event. Further information is available online (www.theamericanartfair.com).
Rainy Street Scene, 1933, by Charles Ephraim Burchfield (1893-1967), oil on board, 24¾" x 177/16", was available at the booth of Menconi & Schoelkopf, New York City.
Autumn, 1969, by Fairfield Porter (1907-1975), oil and graphite on masonite, 18" x 14", was priced at $325,000 from Meredith Ward Fine Art.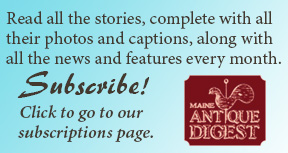 ---
Originally published in the March 2018 issue of Maine Antique Digest. © 2018 Maine Antique Digest