Neal Auction Company, New Orleans, Louisiana
Photos courtesy Neal Auction Company
In 2017 Neal Auction Company's Louisiana Purchase Auction, a three-day event held November 17-19, fell on a busy weekend in New Orleans. Everyone was talking about the Thursday wedding of tennis star Serena Williams to Reddit cofounder Alexis Ohanian at the Contemporary Arts Center on Camp Street in the Warehouse District—what she wore, who was there—all captured in gorgeous photos taken by Voguemagazine. Furthermore, Saturday was Election Day—the city was plastered with signs and stickers for local offices. When the results were in, LaToya Cantrell had been elected the first female mayor of New Orleans. The weather was warm, almost Caribbean, and the air was filled with the sweet faded scent of dried flowers on the trees.
Little things can mean a lot. Neal Alford shares a serene moment with the Tibetan parcel-gilt bronze figure of Amitayus, a celestial Buddha associated with longevity. A buyer on the floor, standing firm with paddle raised, purchased the lot for $783,000 (est. $2500/3500) after a sustained battle. A bit of contrast on the wall above, George Rodrigue's The Petro Brothers, a 1985 Cajun landscape featuring friends of the artist, sold for $42,700. Albertson photo.
French painter Charles Giroux (1828-1885), who was active in New Orleans 1868-85, is known for his diminutive, jewel-like landscapes filled with period detail. This tiny masterpiece, Settlement on the Bayou, 4¾" x 9¾", once in the Jay P. Altmayer family collection in Mobile, Alabama, sold for $43,920 (est. $10,000/15,000). Another Giroux view (not shown), depicting a cabin on Lake Pontchartrain at sunset, brought $16,470 earlier in the sale.
This Louisiana landscape with a wooden bridge in the foreground, 18" x 30", by William Henry Buck (1840-1888) was the highest-valued painting in this regionally focused sale and realized $183,000 (est. $125,000/175,000) on a bid from a couple on the floor. The painting, dated 1883, had been purchased directly from Buck by Aristide Hopkins and his wife, Mary McNeil Hopkins, for their house on Esplanade Avenue.
At the Neal Auction Company on Magazine Street at the edge of the Garden District, everyone knew something big was about to happen. The walls were covered with important 19th- and 20th-century paintings, the floor was populated with excellent furniture from major Louisiana and West Coast collections, but one small figure continued to meditate as the staff worried about how many phone lines they could muster for a single lot. The object in question was a Tibetan parcel-gilt 16½" high bronze figure of Amitayus, a celestial Buddha strongly associated with the gift of longevity—a good divinity to have on one's side. The figure sat in Dhyanasana, or full lotus position, on a double-lotus base. Small gems were set in the bronze, and the interior still contained offerings of tiny prayer scrolls.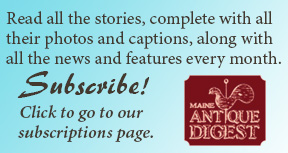 There are different types of bidding runs in a live auction. Some have busy starts and then slow down to long battles between two final bidders. Other times, no one seems very interested at first, but the run suddenly builds as more bidders jump in. The best kind of run—seldom seen—occurred when the Amitayus came up in the middle of the Saturday session. With multiple phone and online bidders on board, the floor crowd saw one Asian gentleman stand at the back of the room with his paddle held unwaveringly aloft, simply waiting for all the other potential buyers to fall out. He earned a round of applause when he won the lot for $783,000 with buyer's premium (est. $2500/3500). This single lot helped boost the final total for the sale to $3.65 million.
Southern landscape master Richard Clague (1821-1873) was intrigued by the geometrics of this fishing camp on pilings on Bay Jaune, just off Lake Pontchartrain, near the modern town of Slidell. A study for the painting can be found in a sketchbook in the New Orleans Museum of Art. In spite of some condition problems, the waterside view, 16¼" x 24¼", sold for $85,400 to a phone bidder.
Part of the Robert Smith collection, this Louisiana mahogany armoire of the early 19th century sold for $61,000 (est. $40,000/50,000). The central cartouche is inlaid with a tinted American eagle and shield, the frame is accented with string inlay, and the legs rest on brass ball feet.
The highest price for any piece of furniture in the November sale was achieved by this rare American Rococo rosewood dressing table, 85" high, possibly made in Alexander Roux's New York workshop, when it sold to a phone bidder for $93,940 (est. $15,000/25,000) after protracted bidding. The table, with its superb carving and fine old surface, came from a collection formed by Russell and Doris Evitt of Amador County in northern California.
As can be seen by the illustrations, however, the principal focal points of the total sale were 18th- and 19th-century regional paintings, including historical portraits, 18th- and 19th-century American furniture, and contemporary southern paintings. President and chief auctioneer Neal Alford talked on Sunday about how auctions must be carefully constructed to present a good mix for the market: "I'm really interested in the fabric of the sale, the whole thing. We're representing lots of different people, so many consignors. No matter what happens during the sale, your energy and your responsibility should be equal for every lot."
In the field of American art, views by Richard Clague (1821-1873)—a French-born artist often called the father of Louisiana landscape painting—and by his student William Henry Buck (1840-1888) had been the presale focus of collectors. The sale of a Clague painting drew national attention when his North Shore of Lake Pontchartrain at Mandevillesold for $1,627,500 in Christie's sale of the Jay P. Altmayer family collection in January 2017; the landscape had hung at the entrance to the Oval Office during the Carter administration. Neal's Clague lot, depicting a fishing camp on Bay Jaune, sold for $85,400, while a Louisiana pastoral view with a wooden bridge by Buck went for $183,000 to local collectors in the room. The consecutive lots shared a distinguished provenance—they had been purchased from the artists by Mr. and Mrs. Aristide Hopkins of New Orleans and Biloxi, Mississippi, and had descended in that family.
Another Chippendale period piece from the Natchez consignor, this walnut tall-case clock with moon dial and painted vignettes, 99½" high, was made by John Fessler of Fredericktown, Maryland, circa 1790; the final price was $28,160 (est. $15,000/25,000). The example had been sold at Christie's in New York City in January 2011 for $17,500 and then passed through the hands of Pennsylvania dealer Kelly Kinzle to the Mississippi collection.
Louisiana furniture collected by antiquaire Robert Smith of Breaux Bridge included simple country pieces, which are far rarer in the South than in the other regions of the country. Most are made of cypress, such as this 31½" high Acadian table à tréteau, or trestle table, modeled on earlier French movable worktables. Thanks to its rarity, this form sold for a surprising $25,620 (est. $4000/6000); another plain cypress plank table with turned legs (not shown) brought $18,300 (est. $2000/3000).
Seven works by living artist Hunt Slonem, who has a huge following in Louisiana, were offered over the three-day sale. Born in Kittery, Maine, in 1951, he received a degree in painting and art history at Tulane University in New Orleans and now owns plantation properties in the state, tied to his interest in historic preservation. The top seller was this 1995 canvas, Point of No Return, filled with Neo-Expressionist birds—perhaps from his personal aviary—which brought $18,560 (est. $10,000/15,000). One of his rabbit paintings, Metallic Bunnies (2015, not shown) sold for $9280 (est. $3000/5000) on Friday. The Rococo rosewood meridienne below from the Service collection brought $6710. Albertson photo.
Marney Robinson, Neal's paintings head, said after the auction: "The painting was really Buck at his very best. The colors are absolutely luminous, and the condition was just fabulous. That was a great size for him—18" x 30"—and a really wonderful composition; there's only a handful of bayou bridges. The hammer was right in the middle of the estimate, so we were pretty happy with that one. On the Clague, condition was certainly an issue there. Normally you would expect a Clague to bring more than a Buck, but the condition on this piece held collectors back."
Turning to Charles Giroux (1828-1885), a French artist who was active in New Orleans 1868-85, she continued, "The Giroux Settlement along the Bayou was a really fantastic little jewel-like painting. So tiny—4¾" x 9¾" framed—but so special. His works don't come up very often. That scene had every aspect of a Louisiana painting you could want—a cabin, figures, moss on the tree, steamship on the bayou."
In the increasingly popular field of 20th-century and contemporary art, Robinson cited the five works by Louisiana artist George Rodrigue (1944-2013) in the sale: three of his scenes of Cajun folk life and two from his "Blue Dog" paintings. First among them was the 2011 work Blue Dogs on the Red River, a reference to the river that runs along the eastern edge of Shreveport, which sold for a high-estimate $89,600. She said, "That's my artist—I worked for him for almost seven years, until he died, and then I came to work here at Neal. I watched him paint it, a very emotional piece—a true masterpiece of his late mature style. I was there when it sold the first time, and I was there when it sold the second time. Most of our paintings did sell right within range. We're always happy to get them sold."
Horizon: Glutton of Autumn, a large canvas (72" x 48") by New Orleans-born Abstract Expressionist Fritz Bultman (1919-1985), sold for $67,100 (est. $40,000/60,000) to a phone bidder. In a New York Times article, January 31, 1959, Dore Ashton wrote of Bultman: "The 'subject' of his paintings, of course, is not any particular place in New Orleans, but his own warm response to his experience, or memory, of this queen among southern cities."
Vivid and bold in its Rococo frame, Blue Dogs on the Red River was the top-dog painting by George Rodrigue (1944-2013), selling for $89,600 (est. $60,000/80,000). Albertson photo.
José Francisco Xavier de Salazar y Mendoza (circa 1750-1802), born in the Yucatán, painted portraits of New Orleans political and social elites during the city's Spanish administration, which extended from the signing of the Treaty of Paris in 1763 until 1803. This 40¼" x 31" depiction of Don Antonio Mendez (1750-1829), an important figure in the history of cane sugar production, sold for $122,000 to an institutional buyer; a Salazar-attributed portrait of Mendez, his wife, and two of their children sold at Neal's in 2004. Visitors may expect to view both paintings again this year when the Ogden Museum of Southern Art opens the exhibition Salazar: Portraits of Influence in Spanish New Orleans, 1782-1802 in March.
Equally significant was the sale for $67,100 of Horizon: Glutton of Autumn, a 1957 oil on canvas by Fritz Bultman (1919-1985), a major New York Abstract Expressionist who remains less well known than his contemporaries. Standing by the lot, Amanda Mantle Winstead, senior appraiser of fine arts at Neal, said, "The variety in the sale is certainly something we work really hard on, from seventeenth- and eighteenth-century works to modern contemporary art. We expected the Fritz Bultman to do well today. It did not come out of a New Orleans collection, but we had a lot of interest from collectors here. He had a national and international following; there was a dealer in Paris who represented him. He was an Abstract Expressionist, part of that group called the Irascibles in New York."
What the artists had been irascible about was the Metropolitan Museum of Art's lack of interest in Abstract Expressionism and other modern art movements. In 1950 the group, which also included Robert Motherwell, Jackson Pollock, and Mark Rothko, signed a letter of protest sent to the museum. Although he made his name on the New York scene, Bultman grew up in New Orleans; his family owned a prominent local funeral home on St. Charles Avenue. By the time the Bultman Horizon was offered on Saturday afternoon, attentive people in the salesroom had noticed that the same telephone bidder had won many of the most important fine art lots of regional interest, and that they had included both 19th-century and contemporary offerings. Although there are private collectors with diverse tastes, the selections also might indicate an institution with good financing, in which case, the art will be on view in the near future.
When asked what antique furniture is desirable in the current marketplace, auction department heads yearn for the elusive "best of the best," because only those pieces will bring out the buyers. For the Louisiana Purchase this time, Neal was fortunate enough to have the best selection of American high-style Rococo Revival furniture since it began offering the Service collection in January 2015. Examples were drawn from two California sources, with the star lot—a rare rosewood dressing table that sold for $93,940—coming from the collection of Russell and Doris Evitt, who lived in the historic Gold Rush country of Amador County. Collectors had a choice of Rococo sofas, side chairs, étagères, and center tables attributed to major East Coast cabinetmakers on all three days of the auction. The sale also presented an elaborately carved highboy and tall-case clock in the late 18th-century Chippendale style, consigned from a collection in Natchez, Mississippi.
Collectors devoted to furniture actually made in Louisiana came to the sale with an eye on the collection formed by preservationist and antiquaire Robert Smith, who had used the pieces he gathered to furnish historical structures on his property in Breaux Bridge. The contents included both formal pieces and much rarer Acadian country furniture of simple design. Many of the examples in the sale had been illustrated and/or referenced in Furnishing Louisiana: Creole and Acadian Furniture, 1795-1835by Jack D. Holden et al., published by the Historic New Orleans Collection in 2010. The highlight of the group was a mahogany armoire inlaid with an American eagle cartouche that had come from the Charbonnet family of New Orleans; it sold for $61,000 (est. $40,000/50,000) to a bidder in the room.
The catalog entries for the Louisiana Purchase Auction, both in the field of fine art and furniture, contain a wealth of further information. Peruse this and other past catalogs online (www.nealauction.com).
---
Originally published in the February 2018 issue of Maine Antique Digest.