New York City
Filling a void in the New York City show landscape, The Art, Design & Antiques Show at Wallace Hall offered dealers and collectors a place to exhibit and buy during Americana Week.
The show has grown in stature and significance. The 33 dealers who set up shop January 19-21 in the subterranean hall of the Church of St. Ignatius Loyola at 84th Street and Park Avenue had positive things to say about Brad Reh's management style. Furthermore, they were optimistic about the event's future.
"It's the best-looking of the shows" so far, said dealer Matthew Robinson of Trifles, Wiscasset, Maine, who had a large booth to the right of the entrance.


This American folk art portrait of a young man, attributed to Ruth Whittier Shute (1803-1882), was available for $18,500 at the booth of Beverly and Douglas Norwood of The Norwoods' Spirit of America, Timonium, Maryland. The Norwoods date the portrait to 1834-37.

Michael Pashby of New York City asked $18,500 for this late 16th- to early 17th-century English walnut table cabinet, 21 3/16" x 15 5/16" x 20 3/4" (opened), and 12 5/8" (closed).


New to the show was Lotus Asian Arts & Antiques Gallery, Austin, Texas, which specializes in "everything beautiful" said owner Jonathan Tung, with a focus on Asian sculpture, antiquities, and textiles but also carrying estate jewelry. Seen here is a pre-Columbian pendant in the form of an eagle, 20k gold, from Panama, with an asking price of $15,000. The hairpin, Chinese, Song Dynasty, was priced at $35,000.
"It's one of the few shows that's improving rather than going downhill," said dealer Rosemary Schorr of Schorr & Dobinsky, Reading, Pennsylvania.
Attendees appeared eager to be there and spent time looking at the offerings, which included English and American furniture and decorative arts, American folk art, old master drawings, antique and estate jewelry, Native American arts, books, Asian art, rugs, and silver.


This 1930s aluminum violin, with Bakelite, made by the Aluminum Musical Instrument Co., Ann Arbor, Michigan, was priced at $7500 by Bizarre Bazaar, New York City.


This bow-back Windsor settee, 1785-1810, attributed to John Letchworth (1759-1834), Philadelphia, was available at the booth of A Bird in Hand Antiques, Florham Park, New Jersey, with an asking price of $6700. The seat is poplar; the legs and spindle are maple; the crest and arms are oak. It measures 38" high (seat height 18") x 40" wide. It sold during the first hour of the show. The folk art box on a contemporary iron stand was priced at $980.
This Navajo pictorial rug with Spider Woman emerging from the center of the earth, 1920s-30s, of natural and synthetic handspun wool, was priced at $6500 at the booth of Marcy Burns American Indian Arts, New York City. The Santo Domingo (Kewa) large storage jar, 1930s, possibly made by Monica Silva (1900-?), was priced at $26,000.
For New York City dealer Clinton Howell, "the show was fun to do. There's no stress. It's a good little show," he said.
James Gallagher of J. Gallagher Antiques, North Norwich, New York, echoed Howell's sentiments and added, "It's kind of like the old days. Everybody's been selling."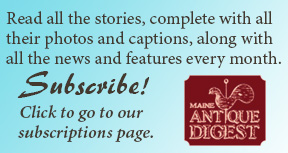 First-time exhibitors Avril Nolan and Quy Nguyen of Form Vintage, Brooklyn, New York, approach antiques in a modern way. "We like clean, simple forms," said Nolan, who explained that she and her husband, Quy—who worked for Martha Stewart in the collections department for five years and currently works at Ralph Lauren as a style director for photo shoots in the company's home division—are constantly thinking about how antiques can "best fit in our Instagram-curated world." They made some sales and contacts during the weekend show and added freshness to the mix.


First-time exhibitors Quy Nguyen and Avril Nolan of Form Vintage, Brooklyn, New York, brought their own aesthetic to the show. The husband-and-wife team takes a modern approach to vintage clothing, jewelry, and antiques. "We want to shift people's perspectives as to what 'antique' is and show how pieces can be relevant today," explained Nolan, adding that the show had good energy and that Form had good sales. Seen here are a 19th-century rod-back Windsor chair, priced at $500; an early 1900s African vessel, tagged $200; a Han Dynasty vessel for $450; and a Transitional Navajo sampler, 1890s, priced at $1800. The early 20th-century mask is from Cameroon with European trade beads and feathers and was tagged $1200.


These ceramic plates by sculptor David Hayes (1931-2013), made specifically to hang on a wall, were available at the booth of Bradbury Art & Antiques, Vail, Colorado, and Wiscasset, Maine. The larger one (left) was tagged $5000; the smaller one, $3500. Bradbury Ketelhut said he sold another one earlier in the show to a private collector. The sculptor's son David Hayes Jr. stopped by the show.


This American folk art fish-carved armchair, circa 1850, with eel-skin upholstery, was available at the booth of Andrew Spindler Antiques & Design, Essex, Massachusetts. The dealer asked $7800 for it. It got a lot of attention.
A small café catered to the crowd with the usual breakfast and lunch items, but it was the daily changing menu, which included tuna tartare, chili, beef stew, and rack of lamb, that was a hit. David Hart, executive chef of Catering from the Hart, New Canaan, Connecticut, got a four-star review from the dealers, who appreciated his home cooking prepared in the kitchen at Wallace Hall.
Show manager Reh advertised the event several times in the arts section of the New York Times. Additionally, a shuttle was hired to go back and forth from Wallace Hall to the Winter Antiques Show, 15 blocks south on Park Avenue. "With the shuttle, we're trying to increase the footprint to make this a 'neighborhood plus' show," explained Reh, whose day job is running a jewelry store with his wife, Vandy, in New Canaan, Connecticut.
Complimentary admission was given to St. Ignatius church members on Sunday. The regular admittance fee was $20 and was good for the entire run of the show. Dealers were given unlimited complimentary passes for their best clients as well. And this year the weather cooperated.
The Art, Design & Antiques Show at Wallace Hall will return in January 2019. Further information is available online (www.rehshows.com).


Avril Nolan and Quy Nguyen of Form Vintage, Brooklyn, New York, first-time exhibitors at Wallace Hall.


A small paint-decorated cabinet by Ralph Cahoon (1910-1982), 29¾" x 19¾" x 9¼", 1979, had an asking price of $5500 at the booth of Earle D. Vandekar of Knightsbridge, Maryknoll, New York. Deidre Healy managed the booth at the show, while owner Paul Vandekar showed at the New York Ceramics and Glass Fair at the Bohemian National Hall a few blocks east.
Petit Point by Fannie Hillsmith (1911-2007), oil, tempera, and sand on masonite, 8½" x 10½", was priced at $1600 at the booth of Trifles, Wiscasset, Maine.
---
Originally published in the March 2018 issue of Maine Antique Digest. © 2018 Maine Antique Digest