Manchester, New Hampshire
The quilt block logo for Antiques in Manchester: The Collector's Fair, held this year August 9 and 10 in Manchester, New Hampshire, is colorful—an interesting pattern of gold, red, and green. Show promoter Karen DiSaia utilizes the same color scheme in all her advertising, press materials, and signage; and her show is just as colorful as the logo.
DiSaia, a veteran promoter of shows, and her dealers strive to present a colorful palette, resulting in an event that is a delight for the eyes. Now an integral part of Antiques Week in New Hampshire, this is a show that would easily withstand scrutiny if it were a standalone affair. There's lots to see and, more importantly, lots to buy. Attendees can seek the formal and the academic, offered right beside the folky and the fun. They can find the expensive and the affordable—all under one roof.
"I thought it went really well," said DiSaia. "A number of people told me they had the best show they ever had. I
think there was an overwhelming positive commentary about it."
DiSaia said she has had people calling her and saying they had been selling on the Incollect online platform, which continued ten days after the show. Incollect photographed each booth, highlighting objects and information. People who couldn't attend the show in person get a chance to shop it virtually after it's over and gone. This is the second time Incollect has presented the show virtually; the first was in 2021.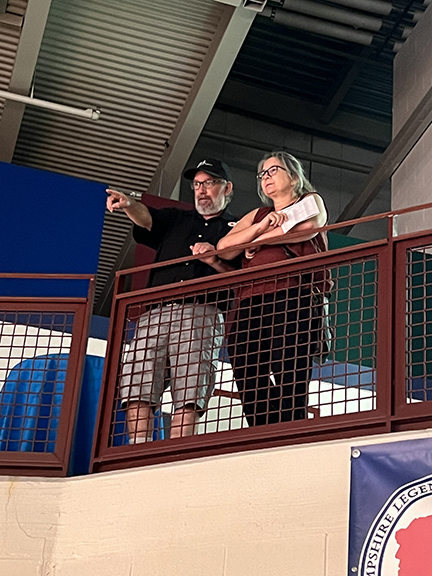 Customers wait on the upper level of the arena before the show opens. It's a tantalizing view—some enticing booths can be spotted. Bob Zordani and Heidi Kellner of Z & K Antiques, Lexington, Virginia, were some of the first in line and waited patiently for the show to open.

The event space, the Sullivan Arena on the campus of St. Anselm College, lends itself very well to an antiques show. It's big and comfortable, and there's plenty of free parking. The one drawback is where to put the large line of people waiting to get in.
Because of the addition of locker rooms to the facility, DiSaia can no longer have chairs inside beside the entrance. Instead, she chooses the upper level of the arena. It keeps patrons sheltered from the weather, it's climate-controlled, and food and bathrooms are available. Plus, ticketholders can see glimpse of booths, whetting their appetites.
Getting from the second level to the show floor proved a challenge last year. In 2022 showgoers were directed down steep concrete stairs that would be unforgiving if somebody tripped. Going down the stairs was slow, leading to a trickle of people coming in, and prompting several dealers to complain about the lack of a surge into the show.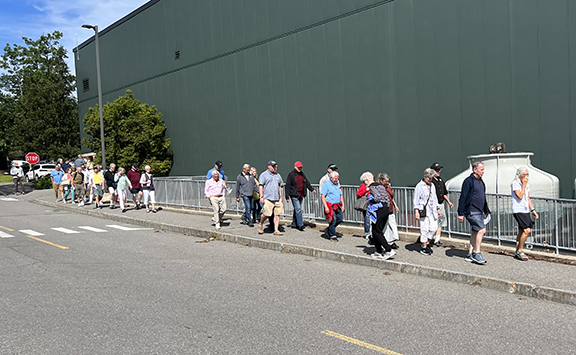 It was back to the old entrance to the show this year.
This year at the opening, DiSaia, like a drum major, led the crowd back outside and down a hill to the entrance on the show floor. There was some grumbling at the unconventional way to enter the show, but DiSaia accomplished two goals—she kept the attendees safe and comfortable, and she provided a surge of eager buyers for the dealers.
Sales at the show depended on who you talked to, but overall reports were positive. Wiscasset, Maine, dealer Peter Eaton said, "A terrific show—and who says furniture isn't selling? I sold a cross-based stand, a crusty blue blanket chest, a ball-foot blanket chest, a Dunlap candlestand, and a decorated tall clock. None of this had been presold."
Eaton experienced follow-up sales. "Someone who looked at the bowfront in an old finish called and bought that over the weekend. Customers who had been at the show came by the shop and purchased a shoe-foot hutch table, a Queen Anne side chair with a scalloped seat rail, and my veneered Queen Anne high chest. Four of these sales were to first-time customers. So I can't complain, but all of this was done while missing a significant number of familiar faces who had been steady customers in years past."
James L. Kochan, another Wiscasset, Maine, dealer, added, "Attendance was strong on the opening morning and picked up again late afternoon that day but was light through the entire morning of day two due to the NHADA show.... There did seem to be good energy, regardless, in terms of both enthusiasm and sales.
"I brought a good number of large, important, and relatively pricey framed works of art to the show and sold nary a one. They ranged from marine paintings to folk art, portraiture, and landscapes....What sold like hotcakes in my booth were portrait miniatures—I brought a selection of early American and British works, many by important artists, and all but one were sold to collectors and two dealers. One of the miniatures was of an important historical sitter, Major General Alexander Macomb, a War of 1812 hero. He was painted while commander in chief of the U.S. Army in 1834 by a southern artist.... It was the first piece sold out of my booth on opening day. It went home with a relatively new New York collector who over the past few years has been building an impressive collection of early American paintings and furniture.
"I met a number of new and relatively younger attendees—thirties and forties—at this show and some of them are already serious and focused collectors, with others who show great potential to becoming major collectors down the road," Kochan added.
For more information, call DiSaia Management at (860) 908-0076, email [email protected], or check the website (www.disaiamanagement.com).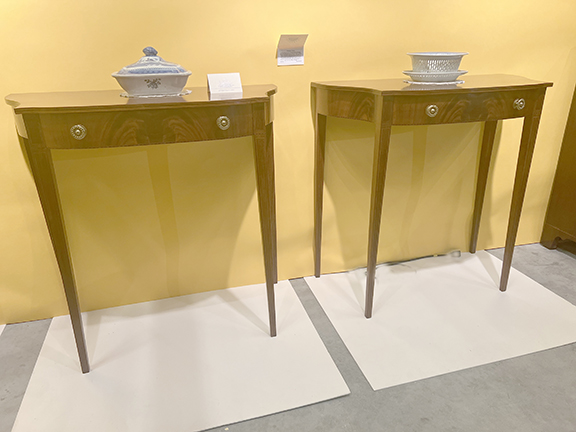 The pair of Massachusetts Federal inlaid mahogany chamber tables was $22,500 from J & G Antiques, Amityville, New York. Each has a bowed front with serpentine sides, a drawer flanked by rosewood panels with black-and-white borders, arrow-inlaid apron borders, and tapering line-inlaid legs. They are published in American Antiques from Israel Sack Collection, volume IV, page 989. The Chinese export blue-and-white Canton covered bowl (left) was $725, and the Canton blue-and-white reticulated fruit basket and underplate was $750.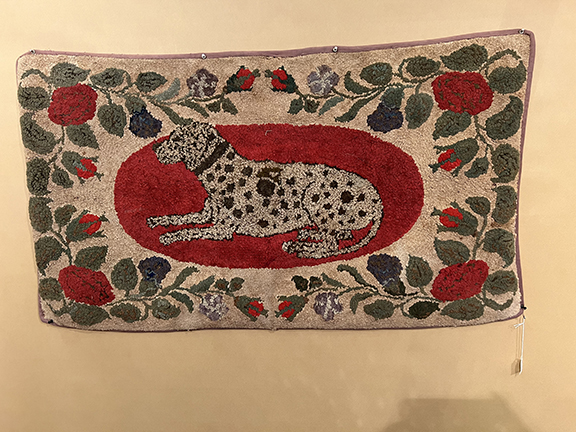 The colorful spotted dog hooked rug, late 19th/early 20th century, was $2300 from Hilary and Paulette Nolan of Falmouth, Massachusetts.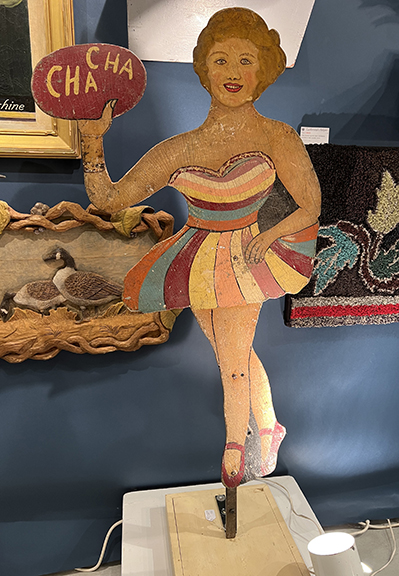 The circus or carnival sign from the 1930s stands 48¾" high. The "Cha Cha" figure on a later stand was $7500 from Leatherwood Antiques, Sandwich, Massachusetts.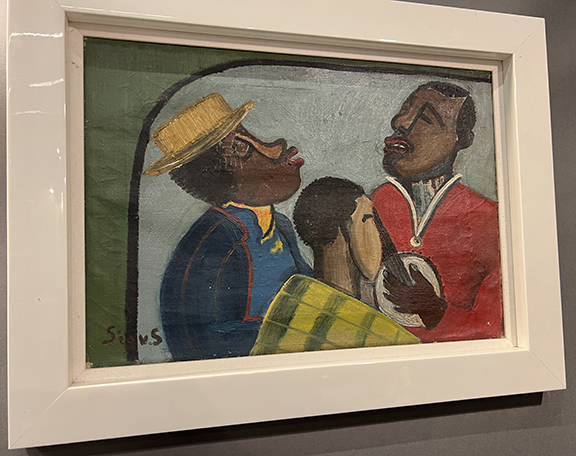 The mid-century oil on canvas of a black musician playing his banjo was $725 from Pioneer Folk Antiques, LLC, Ellsworth, Maine. "Pioneer Folk Antiques had a very good show, with sales extending over both Wednesday and Thursday," said Ed Miller. Among the items in the booth was an early and very folky goose weathervane (not shown) that was prominently displayed front and center; it sold.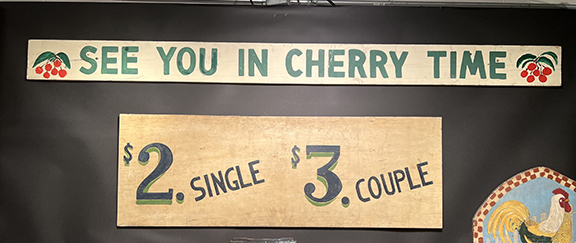 Victor Weinblatt of South Hadley, Massachusetts, was new to Antiques in Manchester this year. The "See you in Cherry Time" sign, 1940s-50s, was $795, and the "$2. Single $3. Couple" sign, referring to occupancy in lakeside summer cabins in upstate New York, was $1500.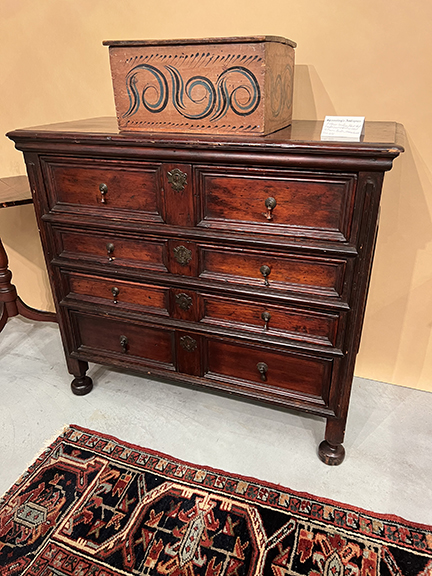 The circa 1695 oak and pine chest painted black and red, from Boston, was $14,000 from Norman Gronning Antiques, Shaftsbury, Vermont. The 18th-century Continental paint-decorated box has replaced hinges and was $950.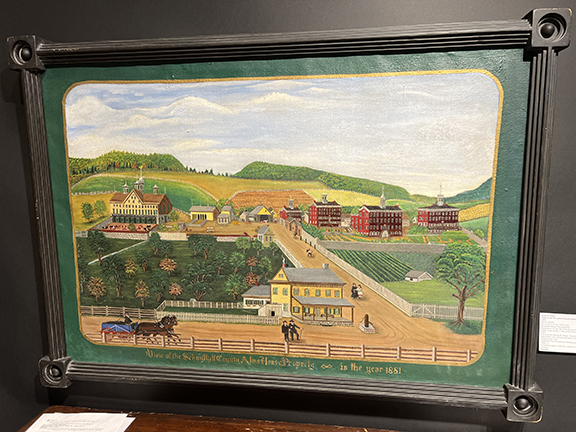 View of the Schuylkill County Alms House Property in the Year 1881 by Ralph Reed (1884-1966), showing Schuylkill Haven, Pennsylvania, 1908, 28" x 41¼", oil on canvas, was $56,000 from Antique Associates at West Townsend, Inc., West Townsend, Massachusetts. It's published in Pennsylvania Almshouse Painters (1968) by Thomas Armstrong and in A Shared Legacy: Folk Art in America (2014). Its provenance includes James and Nancy Glazer, David Wheatcroft, and collector Barbara Gordon.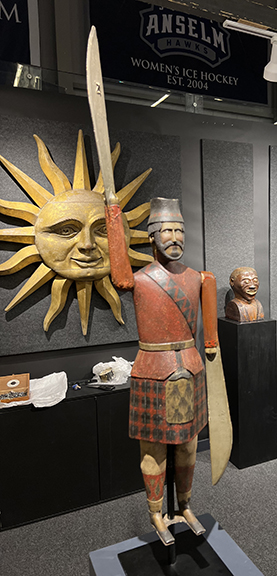 The 1860-80 whirligig of a member of the 79th New York Regiment, "the Highlanders," was $95,000 from Allan Katz Americana, Madison, Connecticut. The regiment was organized June 20, 1859, and was one of three regiments that formed the 4th Brigade of the 1st Division of the New York State Militia. The 79th gained fame during the Civil War, fighting with the Union Army. This figure would have represented a member on parade—the members wore kilts in parades, but, according to the guidelines set by the New York State Militia, in the field the Highland Guard wore tartan trousers, not kilts.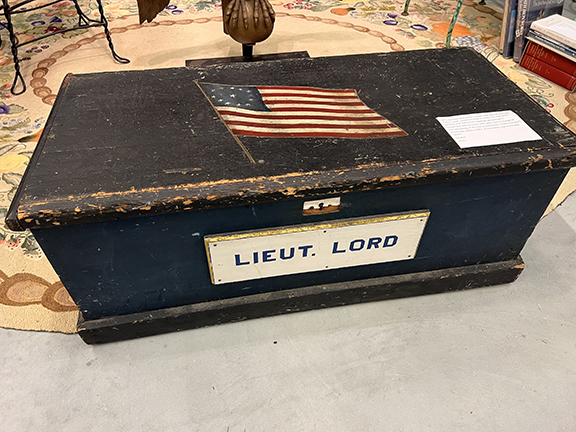 The 19th-century pine sailor's chest with "Lieut. Lord" and an American flag was $3450 from Find Weatherly, LLC, Westport, Connecticut. It has macramé beckets and came with clippings about Lieutenant John A. Lord, supervisor of the 1927-31 restoration of the U.S.S. Constitution.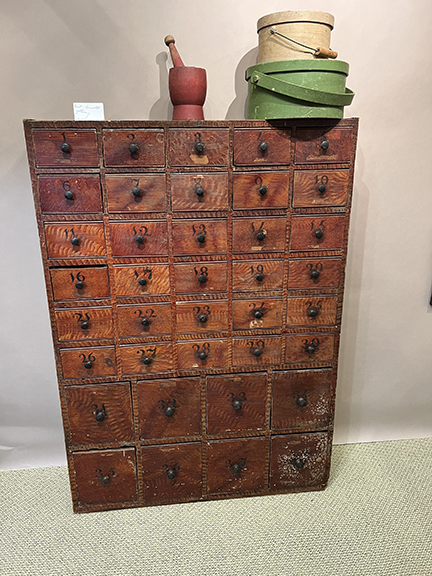 Paint-decorated 38-drawer apothecary cupboard with numbered drawers, $11,500 from Lisa S. McAllister of Clear Spring, Maryland. The mortar and pestle on top was $895, and the two boxes with handles were $750 (top) and $850.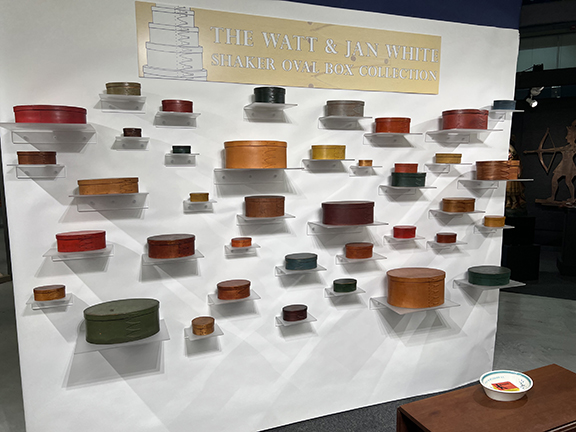 John Keith Russell of South Salem, New York, devoted an entire wall to displaying the Watt and Jan White collection of painted and stained Shaker oval boxes. "A lifelong antiquarian, Watt dedicated much of his life to becoming a well-informed, generous collector with an acute eye. What distinguished his approach was a singular focus on the individual box. Watt was drawn to vibrant color and perfect form and, ultimately, built a collection of exceptional distinction," Russell's website stated. By 2 p.m. on the show's opening day, 12 boxes had sold, priced from $1000 to $45,000.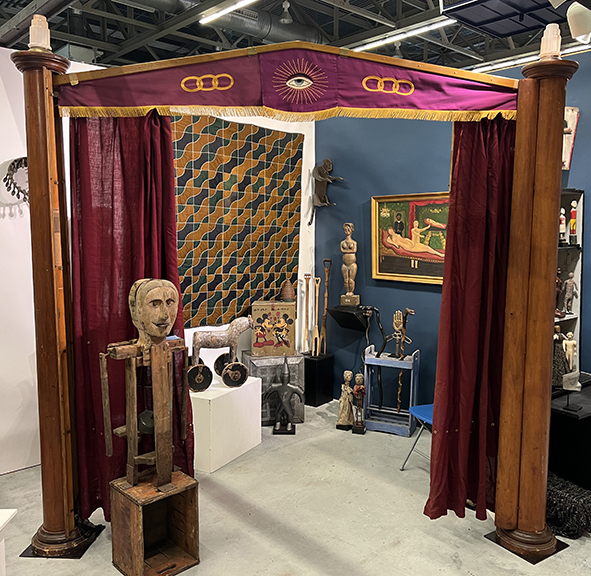 The ball toss carnival figure from the early 1900s came from a California collection and was $6500 from Aarne Anton of Nexus Singularity, Pomona, New York. If a person hit the chest, a bell would ring and a leather tongue would pop out. The self-contained Odd Fellows rostrum curtain with an all-seeing eye served as an entrance to more of Anton's folk art—a booth within a booth?—and was $3600. Everything could be stored in the two columns, and it still has original labels identifying the maker as S. T. Corbitt of Enid, Oklahoma.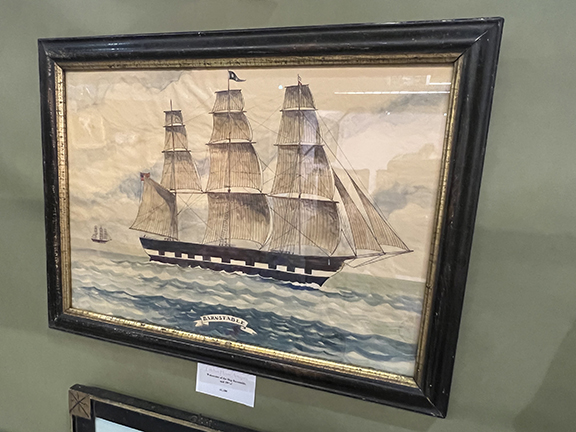 The mid-19th-century watercolor of the ship Barnstable was $1100 from Latcham House Antiques, Waterville, Ohio. It sold to collectors and dealers James and Kristine Colbert of Huntington, New York. Jim Stoma of Latcham House Antiques said, "Karen and her staff did a phenomenal job. We had our best show in Manchester with Karen. The crowd was good—they were in a buying mood—and the weather cooperated."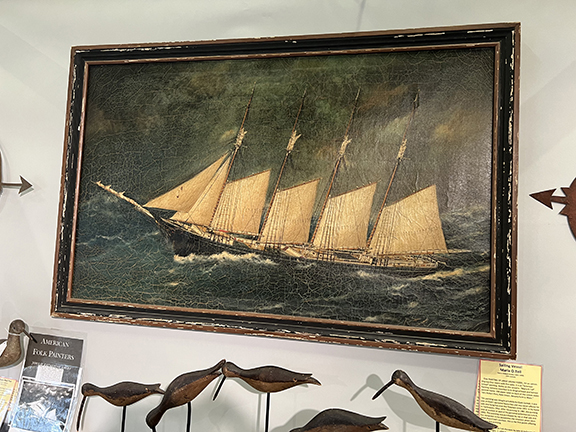 The American school oil on canvas portrait of the Maria O. Tell, 26" x 42" (sight size), was $8600 from John Sinning Antiques and Folk Art, Elkhart, Indiana. An old label on the back states "Mrs. Robert Post, Hale Street, Beverly Farm, S. Mass." The painting once belonged to Clark Garrett, who acquired it privately; it hung over his fireplace from 1972 at his home in Fairhaven, Ohio. Sinning bought it at the 2002 auction of the Garrett collection, and it's been in his collection ever since.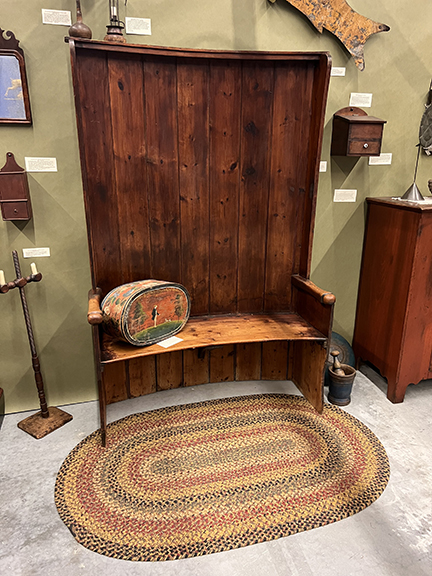 The pine settle, late 18th/early 19th century, with a curved back and seat and rolled arms that end in a ball, probably Welsh or English, 71½" x 47" with a seat height of 18½", was $2600 from H & L Antiques, Princeton, New Jersey. The early 19th-century German painted oval bentwood box, 7½" x 18", with its original paint decoration was $775. It depicts a man and a dog and has a German inscription that purportedly reads "My dog the trusted animal enjoys bringing back to me lost items."
The 1675-90 embroidered picture memorializing the bubonic plague of 1665-66—see the rats?—was $3200 from Neverbird Antiques, Surry, Virginia.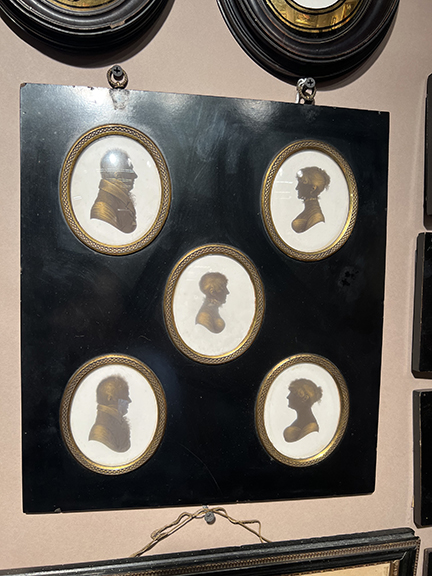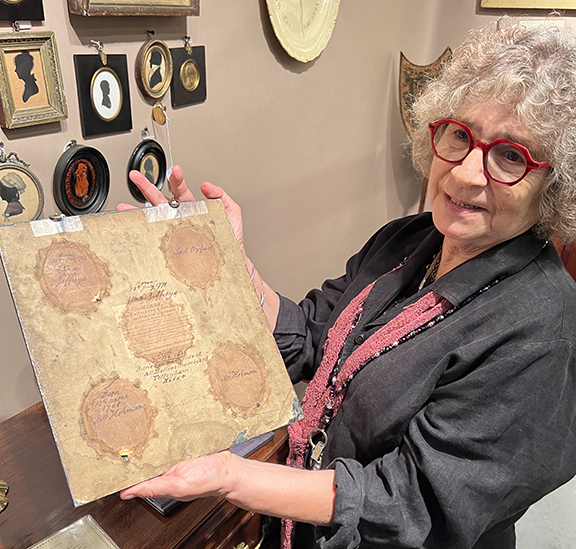 The set of five late 18th-/early 19th-century silhouettes painted on plaster by British artist John Miers (1758-1821) was $1450 from Joy Hanes of Hanes & Ruskin Antiques, Niantic, Connecticut. What made it special, Hanes said, is that the reverse has a Miers label, identifies the sitters, and has some family history. ---
Originally published in the October 2023 issue of Maine Antique Digest. © 2023 Maine Antique Digest