Forsythes' Auctions, LLC, Cincinnati, Ohio
Photos courtesy Forsythes' Auctions, LLC
Dispersal auctions of well-known antiques enthusiasts' collections are always met with mixed emotions. There is the sadness of the person's passing mixed with the realization that what was collected is now going to be broken up. Sometimes, as collectors, we are witnessing what will probably take place when we pass.
And while these revelations can be off-putting, there is also the fact that through such auctions, buyers who admired what was collected and admired the person doing the collecting are afforded the opportunity to become the new stewards for the items once held so dear.
Such was the case with the passing of show manager/collector Lynne Dingus. Forsythes' Auctions, LLC, which holds auctions at the Holiday Inn Hotel & Suites Cincinnati-Eastgate in Cincinnati, Ohio—one of Dingus's favorite venues to acquire what she loved—was tapped to sell her personal pieces, those items she cherished, pieces that would never have seen an auction block in her lifetime.
The top doll of Lynne Dingus's collection was this Queen Anne wood and gesso shoulder-head example that sold for $3220 (est. $500/1000). The head has painted black eyes and hair that includes a comb. It has bent jointed wood arms and straight legs and is dressed in an early blue cotton and lace dress. A small doll, she is just 8½" tall.
From the first half of the 19th century and thought to be American, this finely hand-painted oilcloth doll sold for $1725 (est. $200/400). She has blue eyes and painted blonde hair, her lower arms and hands are oilcloth, and her body is muslin. The doll is dressed in a period red calico dress, lace bonnet, and period undergarments. Standing 32" tall, this early painted oilcloth doll also sports brown side-lace cloth shoes and two enameled brooches.
Made of papier-mâché and wood, this early doll sold for $1725 (est. $800/1500). Having painted brown eyes and molded black hair in a bun fashion, the doll has a cloth body with wood lower arms and legs. The 21" tall doll is dressed in her original outfit complete with bonnet and handbag.
Besides being known for the fabulous folk art and dolls she collected, Lynne Dingus was also known for the antiques shows she managed. There is a special breed of people who take on the often thankless job of managing antiques shows. These are the workhorses who can be found gathering together dealers, finding a venue, and then promoting the event in hopes that the masses show up and spend money.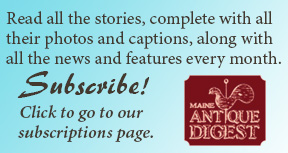 Still,there was much more to Lynne Dingus than most people realize. Dingus, who lived near Lake Cumberland in Kentucky with her husband, Walter—they were high school sweethearts—spent a lifetime collecting and promoting opportunities for others to collect.
She attended many of our auctions and was always a determined bidder," Dave Forsythe remembered. "I loved to see her show up at our sales, while I am sure others wished she hadn't," he added with a smile. "If Lynne wanted an item, she bid until she owned it."
Forsythe said that he knew Dingus to be a very private person who lived a very transient life. "I am not sure what her husband, Walter, did for a living, but I remember Lynne saying they had to move a great deal because of his work and mentioning that over the course of thirty-plus years, they had about twenty-six different homes."
Lynne Dingus had an interest in Native American items. This pair of beaded Great Lakes Native American moccasins, 9¼" long, sold for $2530 (est. $100/200).
The large cutout backsplash of this circa 1820 blue paint-decorated cupboard is eye-catching. Made of pine and poplar, this 72" tall piece sold for $977.50 (est. $800/1500).
Though just over 14" high, this miniature curly maple Sheraton chest packs a punch. Having four graduated drawers with cockbeaded edges, brass pulls, and escutcheons, the chest also features paneled sides and nicely turned legs. It sold for $1840 (est. $1000/2000).
Because of this extensive relocating, Dingus was well known throughout the eastern portion of the country. Those in the antiques industry also knew her because of the numerous antiques shows she managed, sometimes on her own, but often with dealer/collector/show manager Sue Hall. According to an article in the February 9, 1989, issue of the Pittsburgh Post-Gazette, at one time this duo managed more than 42 shows a year!
The Hudson, Ohio, Antique Show held in January comes to mind. This event is now run by Steve Sherhag of Canfield, Ohio, and continues to be a favorite buying destination to kick off the new year. Dingus also gave a great deal of her time and talent to the Fox Chapel Yacht Club Antiques Show, held in Fox Chapel, Pennsylvania, for several years until it closed in 2005 because of flood damage to the banquet room where the show took place.
People all over knew her," Forsythe stated. "But I was surprised how many people called when we first advertised this auction. Very few people knew she died, but they did know she collected quality, and many participated at the auction because they knew Lynne had a great eye."
This circa 1825 folk art theorem painting features a sliced melon, other fruit, and a knife. Painted on linen, the framed piece measures 16" x 20" (sight size), and it sold for $345 (est. $300/600).
The carving of this mid-19th-century folk art mirror coupled with its wonderful old patina helped it sell for $2070 (est. $1000/2000). Made of butternut, the frame is 29½" x 25½".
This white pine cupboard wearing its original polychrome painted finish sold for $920 (est. $600/1200). The gallery of the cupboard has traces of smoke graining, and the interior is painted red and features a shelf. This 36" high piece sits on turned feet.
Folk art, needlework, and dolls were Dingus's passion and made up the bulk of what sold on November 5, 2017, at Forsythes'. These were her favorites and were the décor that made her house a home. Those who had known and worked with Dingus came to the dispersal of her private collection to possibly add one of her pieces to their own collection.
The top lot of the day was, not surprisingly, a doll. Selling for $3220 with buyer's premium (est. $500/1000) was one of Dingus's favorites—a Queen Anne wood and gesso doll, standing 8½" high. Its head was painted with black eyes and hair. The doll had bent jointed wood arms and straight legs, and she wore an early blue cotton and lace dress.
What we sold at this auction, these were Lynne's 'untouchables,' and she really loved her dolls. I know Lynne kept many of her dolls on display in her home under glass domes," Forsythe stated.
Other dolls that sold well included a Queen Anne period doll, gesso on wood with polychrome paint, 30" tall, that made $2415 (est. $1000/2000); an early papier-mâché and wood doll with molded black hair in a bun fashion and cloth body, 21" tall, that brought $1725 (est. $800/1500); and an early painted oilcloth doll having a muslin body dressed in a period red calico print dress with a lace bonnet and period undergarments that made $1725 (est. $200/400). Dingus's collection also included a papier-mâché shoulder-head doll with molded and painted hair, blue eyes, and a closed mouth that sold for $2990 (est. $200/400).
Dingus was drawn to anything with color: furniture, folk art, theorems, and the like. Of the furniture offered, a blue paint-decorated blanket chest, dated 1823, sold for $2185 (est. $2000/4000), while a 50-drawer pine apothecary in a brilliant green with dovetailed drawers and original porcelain knobs sold for $747.50 (est. $800/1500). A circa 1820 blue paint-decorated pine and poplar cupboard with a large cutout backsplash sold for $977.50 (est. $800/1500).
Of the smaller items, an excellent diorama with a doll sold for $1840 (est. $500/1000). The box was filled with wax fruit and painted and carved wooden birds that surrounded a shoulder-head doll with papier-mâché shoulders and head wearing its original green dress.
Another unusual small was a miniature redware chest of drawers that sold for $575 (est. $300/600). All of 13¼" high, it was thought to be of Pennsylvania origin and circa 1840. It had an applied molding overhanging the top, and two small drawers over two wide drawers.
The old patina of a mid-19th-century carved butternut folk art mirror was still eye-catching even though it was not boldly painted, and it sold for $2070 (est. $1000/2000). Each of the four sides featured extensive carving of vining leaves, flowers, and birds.
An 86" x 92" early glazed chintz and calico print pieced quilt with bars of triangles with chintz panels between sold for $920 (est. $200/300), while a folk art wood display of a woman churning butter, with a working hand crank to move her, sold for $1035 (est. $200/500). The piece wore its original polychrome painted finish and was small (5¾" x 4¼" x 2¼").
Of all the collectors I have met over the years, I would have to say Lynne was the most in love with the items she collected," Forsythe noted. "She really adored these pieces that she spent more than fifty years collecting, and she respected their past and importance."
For more information, go to (www.forsythesauctions.com).
This miniature redware chest of drawers with bootjack solid ends and a scroll cutout apron sold for $575 (est. $300/600). Each drawer front also is impressed with the front of an antique furniture key to form a false keyhole escutcheon. This small chest stands 14" high.
Selling for $2185 (est. $2000/4000) was this decorated pine blanket chest in its original old blue-painted ground with a polychrome painted flowering urn at the center. The year 1823 and initials "ET" are flanked by large vining flowers. Other decoration includes compass stars on the sides. The chest also has a cutout apron, bootjack ends, and a top with breadboard ends. It measures 22" high x 43" wide x 18½" deep.
Though Lynne Dingus loved paint, she also acquired pieces of furniture made of beautiful wood such as this curly maple bonnet chest by Matthew Patton (1778-1856) of Dayton, Ohio. With two large hat drawers flanking two central glove drawers over graduated drawers with their original turned cherry pulls, the chest also boasts half-turned and spiral-carved columns with star inlays. This chest sold for $1265 (est. $800/1600).
Much is packed into this diorama that sold for $1840 (est. $500/1000). The carved shadow box frame contains wax fruit and painted and carved wooden birds surrounding a papier-mâché shoulder-head doll wearing its original green dress. The 19½" high x 25½" wide x 4½" deep frame is pine with cutout and tooled leather leaves and flowers and scrolled leather edging, all in an original varnish finish.
---
Originally published in the February 2018 issue of Maine Antique Digest. © 2018 Maine Antique Digest