The Art Dealers Association of America (ADAA) Art Show is a fair for lovers of art.
The dealers who are invited each year to exhibit bring their finest offerings, and many of them dedicate their booths to one artist or a group of artists from the same period and/or genre. "The booths are quite small, so a solo presentation is a strong way to go," one gallerist opined.
"About the Face" was the theme at the booth of Jeffrey H. Loria & Co., New York City. By Jean Dubuffet (1901-1985), Personnage des legendes, 1962, gouache on paper, 19 7/8" x 13¼", was priced at $850,000.
Reclining Figure by Henry Moore (1898-1986), 1930, bronze, 6¼" x 7¾" x 2¾", was tagged $275,000.
Now in its 30th year, the long-running show attracts serious collectors who return over the five-day run (February 28-March 4 with a preview on February 27) at the Park Avenue Armory to view, discuss, and learn more about the art. The 72 dealers (including 11 from the founding 1989 fair) are on hand and often ask visitors, "Are you familiar with the artist?" or "May I answer any questions?" or "Would you like further information?"
The atmosphere is hushed but not stiff, curatorial but not cold.
For first-time exhibitor (and new member of the ADAA) New York City dealer Jonathan Boos, it was an honor to be invited to the show. His booth entitled "The Evolution of American Modernism: Paintings & Sculpture from 1930 to 1970" offered works by Edmund Lewandowski, Hughie Lee-Smith, John D. Graham, John Wilde, Robert Henri, and Harry Bertoia. A large acrylic by Allan D'Arcangelo, Landscape 1967, one of the artist's highway paintings, sold on opening night.
Bleecker Street, 1912-13, by Stuart Davis (1892-1964), oil, 38⅛" x 30⅛", was priced at $625,000 by Debra Force Fine Art.
Yares Art, Santa Fe, New Mexico, and (since 2016) New York City, offered works by Milton Avery (1885-1965). The untitled watercolor (Martha) from the 1930s, 15" x 22", was priced at $120,000. Lakeside, 1960, oil on canvas, 50" x 68", was priced at $2.2 million.
Andrew Wyeth (1917-2009) painted Bristolware in 1948. The 20¼" x 14¼" watercolor on paper, signed, was priced at $235,000 by Menconi + Schoelkopf.
Dealers do proposals for their booths nine months in advance, explained Debra Force. That can be a challenge in terms of planning for inventory. Nevertheless, Force's booth, dedicated to some of the artists included in the 1916 Forum exhibition of modern American painters held at Anderson Galleries, New York City, along with other artists painting in a Modernist style at the time, offered significant paintings and works on paper from the period. Two paintings had sold when M.A.D.revisited on the second day of the show, one by William Zorach (1887-1966) and one by Agnes Pelton (1881-1961).
"Metamorphosis of the Mundane" was the theme of Thomas Colville Fine Art, which offered drawings, paintings, watercolors, and sculptures by Auguste Rodin, Joseph Stella, Louise Nevelson, Robert Motherwell, De Scott Evans, John William Hill, and Robert Cottingham, among others. Colville exhibited the works because the artists chose "to elevate unremarkable aspects of ordinary life into memorable images of unexpected beauty." It was a departure for the New York City and Connecticut-based dealer, who is known primarily for American art from the 18th, 19th, and 20th centuries. The art dated from the pre-Columbian period to the present.
Meredith Ward Fine Art, New York City, exhibited works to mark the centennial of the end of World War I and explored the emergence of American Modernism in the years before, during, and right after the war. Modern Madonna by John Storrs (1885-1956), circa 1918, polychromed cast stone, 23" x 7½" x 5", was priced at $475,000.
"It's a killer," remarked Andrew Schoelkopf of Menconi + Schoelkopf about Summer Night (Red Flat) by Oscar Florianus Bluemner (1867-1938). The tempera on paper laid down on board, 20" x 15", signed, was priced at $750,000 at the New York City dealer's booth.
A shelf displaying sculptures by Harry Bertoia (1915-1978) lined one wall in the stand of New York City dealer Jonathan Boos. From the left, Straw, circa 1964, melt-coated bronze over steel, 18" x 20" x 6", priced at $140,000; untitled, circa 1968, welded bronze and applied patina, 10" x 6" x 6", tagged $35,000; Cones, 1961, melt-coated brass over nickel and welded wires, 19" x 27" x 9", $140,000; and Dandelion Sprig, from the 1960s, beryllium copper and brass, 16" x 13" x 5", priced at $35,000. On the wall, White Fish, 1930, by John D. Graham (1886-1961), oil on canvas, 19¾" x 25⅝", was priced at $225,000; and untitled, circa 1941, oil on board by John Wilde (1919-2006), 20¾" x 27", $130,000.
Salon 94, New York City, had a booth dedicated to the Sudanese artist Ibrahim El-Salahi (b. 1930). A new work from the artist's "Tree" series is seen here. Meditation Tree, 2018, polished aluminum, 26¾" x 21¼" x 18⅛", was priced at $75,000.
"It's stimulating to do a show that's didactic," Colville said. "I brought works that reflect my taste." He noted that they were not "characteristically beautiful"; rather, he wanted to show the transformation of mundane objects and felt the "grouping of works uncovered the creative process of looking." Colville had sold a drawing by Stella, a sculpture by Rodin, and an oil by De Scott Evans by the third day of the fair.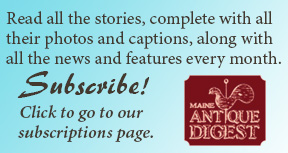 The ADAA Art Show is a benefit for Henry Street Settlement, which celebrates its 125th year of service this year. It offers social services, arts and health care programs, employment services, and legal and financial counseling to 60,000 Lower East Side residents and other New Yorkers.
For further information, check the ADAA website (www.artdealers.org).
June Kelly Gallery, New York City, showed works by Nola Zirin. She is known for brilliantly colored abstract paintings. Voyager, 2013, oil, enamel, and glitter on canvas, 60" x 60", was available for $45,000.
Hirschl & Adler Galleries, New York City, offered paintings by artists represented at the groundbreaking Museum of Modern Art's 1943 exhibition Americans 1943: Realists and Magic-Realists. On the 75th anniversary of the opening of MoMA's exhibition, Hirschl & Adler wanted to recreate the spirit of that show. Seen here is Edmund D. Lewandowski's Farm Buildings, 1940, watercolor and gouache on board, 18¾" x 26¼", signed and dated. It was priced at $95,000 and was one of 13 watercolors representing Lewandowski (1914-1998) in the 1943 show.
Little Irishman, 1913, by Robert Henri (1865-1929), sold at Meredith Ward Fine Art. The oil on canvas measures 24" x 20".
Hirschl & Adler Modern had a booth dedicated to self-taught Antiguan artist Frank Walter (1926-2009). Seen here are round works on vinyl, not dated, oil on vinyl, with diameters ranging from 6¾" to 8⅜". The disks were originally painted as inserts for the bottom of baskets woven for the tourist trade, explained Hirschl & Adler Modern's Tom Parker. They were priced at $14,000 each. Walter's paintings and sculptures represented Antigua at last summer's Venice Biennale.
Street Scene in India by Marguerite Zorach (1887-1968) was available from Meredith Ward Fine Art. The 19¼" x 24" oil on canvas, 1910-11, was priced at $135,000.
Morning Haze, 1978, a cast paper relief diptych, edition of 125, by Louise Nevelson (1899-1988) was available for $20,000 from Pace Prints, New York City.
"Metamorphosis of the Mundane" was the theme of the booth of Thomas Colville Fine Art, Guilford, Connecticut. Seen here is Cat in a Crate by De Scott Evans (1847-1898), oil on canvas, circa 1887, 10⅛" x 12⅛" x 8⅜", signed. It sold, as did a drawing by Stella and a sculpture by Rodin.
---
Originally published in the May 2018 issue of Maine Antique Digest. © 2018 Maine Antique Digest