Exton, Pennsylvania
The 36th annual Chester County Antiques & Arts Show took place March 9-11 and was held in a new place—the gymnasium of the Church Farm School in Exton, Pennsylvania. It was held earlier in March than in the past and was six weeks before the Philadelphia Antiques & Art Show. Dealers and shoppers had good things to say about timing and the new location, which is spacious and airy with good lighting and room for 42 dealers.
Malcolm Magruder of Millwood, Virginia, asked $2859 for this rare pair of pearlware portraits of Homer (with a beard) and Demosthenes (misspelled as "Dimosthenes" on the base). They are about 5" high.
Michael Weinberg of West Pelham Antiques, Pelham, Massachusetts, asked $725 for this historical blue Staffordshire bowl. Contrary to popular belief, it does not depict a Lawrence Mansion in Boston; rather, it pictures the Boston Athenaeum with the spire of the Octagon Church (torn down in 1868) behind it. The design on this piece is based on two prints that were not geographically correct. The price is affordable because the bowl has been restored professionally.
Philip Dubey of Dubey's Art & Antiques, Baltimore, Maryland, asked $4500 for this colorful Chinese export porcelain foo dog, circa 1760, once one of a pair.
Roger D. Winter, Ltd., Solebury, Pennsylvania, asked $12,900 for this Regency mahogany drop-leaf hunt table with reeded legs and brass casters, 89" x 58". The American Chippendale mahogany chairs with tapered square legs and pierced splats were bench-made in the 1860s and priced at $8800 for the set.
One of a pair of large Chinese windows, 70" x 32¾", at least 100 years old, of mixed woods, primarily pine and camphor, with carving symbolizing blessings, $9500 from John H. Rogers of Elkins, New Hampshire.
Parcheesi board, $1175 from Joseph J. Lodge of Lederach, Pennsylvania. It sold.
Manager Wesley T. Sessa signed up a group of professional dealers offering first-rate 18th- and 19th-century furniture and ceramics of every sort, including China trade porcelain, English creamware and pearlware, and American redware and stoneware. Specialists offered silver, brass, iron, and rugs. There were plenty of paintings, prints, and needlework on the walls. A collector could compare four Delaware Valley dressing tables, as many tall chests and high chests, Dutch cupboards, bowfront bureaus, or sideboards. There were three running horse weathervanes, and one sold.
John Hutchison of Rose Valley Restorations and Tim Coldren of Monroe Coldren and Son Antiques, both of West Chester, Pennsylvania, shared a stand. The pair of New England mahogany and maple burl veneer card tables, probably Boston, was $12,750. The New York mahogany sideboard (left) with maple banding on its legs and bellflower chain inlay was $3800. The mahogany Philadelphia sideboard (right) with griffin inlay was $7750.
Thomas Brown Antiques, McMurray, Pennsylvania, asked $2400 for this well-proportioned black-painted Pennsylvania Windsor chair once owned by Pam Boynton. The late 19th-century oil on canvas of the island of Martinique, depicting the town of Saint-Pierre with Mt. Pelée before the 1902 eruption, was $2750. The late 18th-century pine corner cupboard in two sections was $2600. The two small landscapes signed by Charles Leader, an artist who worked in America and England, were $925 each.
Paul DeCoste of Newbury, Massachusetts, asked $25,000 for this bronze sundial made for James Pemberton and marked "Daniel Joy 1764 Philadelphia."
Bill Kelly of Limington, Maine, asked $10,500 for this stenciled white-painted chest from central Maine, circa 1830, from the Nan Gurley collection.
Douglas Stock of Quadrifoglio Gallery, South Natick, Massachusetts, asked $17,000 for this 6'5" x 3'10" Karagashli rug, woven circa 1885 in the Kuba district in Northwest Caucasus.
Michael Leslie of Port 'N Starboard Gallery, Durham, Maine, asked $12,500 for this 24" x 36" oil on canvas painting, Ship "James Littlefield" in Squall, by English maritime painter Samuel Walters (1811-1882). The ship was built in 1852 in Brewer, Maine.
Decorators could have had a field day. John Rogers offered two Chinese windows the size of doors, Hilary Nolan hung a mandala of decoys, and Michael Gunselman put toys on his walls along with large prints of birds. Some decorative items sold. Joseph Lodge sold a Parcheesi board and crib quilt with a Bethlehem star. Hilary Nolan sold his decoys, but silvered rococo sconces from Silver Art by D & R, a pair of 17th-century Dutch brass sconces from Whitman Antiques, and a wall of Chinese hand-colored aquatint engravings from The Costume of China at Denise DeLaurentis's booth were waiting for a designer to discover them.
Collectors came and bought highboys, Dutch cupboards, and an apothecary. They sprang for all sorts of china, albeit more for redware and mochaware than for cobalt-decorated stoneware. A.J. Warren sold a rare lighthouse-shaped enamel salt-glazed coffeepot and some early creamware coffeepots. Some paintings and drawings were sold, and dealers did some business with each other, but it was not a brisk selling show, even though dealers said they had a well-informed audience. The preview party was well attended; a small but steady stream of shoppers on Saturday and Sunday were not a big buying crowd.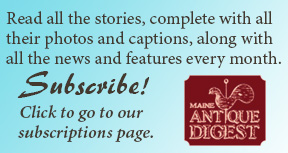 Nevertheless, everyone loved the new venue, and most said they will be back. The Chester County show is an old tradition where treasures can be found. The pictures and captions show only a fraction of them. For more information, visit the website (www.chestercohistorical.org).
A.J. Warren of Maria and Peter Warren Antiques, Sandy Hook, Connecticut, offered a carved portrait of Jenny Lind from a circus wagon for $3600. The pair of Staffordshire greyhounds on rococo bases, circa 1870, was $7950. The pair of English black and white greyhounds, circa 1860, was $4950.
Hilary Nolan of Falmouth, Massachusetts, sold this mandala of decoys on Sunday afternoon.
W. M. Schwind, Jr. of Yarmouth, Maine, asked $550 for this "WE NEED IKE" sign found in Maine.
Denise DeLaurentis of Wayne, Pennsylvania, offered multiple hand-colored aquatints, including this one, after Pu Qua from the book The Costume of China, printed in London in 1800. Each print was framed and priced at $695, and each included the accompanying text on the back.
---
Originally published in the May 2018 issue of Maine Antique Digest. © 2018 Maine Antique Digest