Marion Antique Auctions, Marion, Massachusetts
Photos courtesy Marion Antique Auctions
Frank McNamee and David Glynn of Marion Antique Auctions, Marion, Massachusetts, billed their August 6 sale "The Connoisseur's Sale," and it was that. Their auctions, held in their quarters at 13 Atlantis Drive, the former Marconi transmitter building, are reliable sources of maritime art and antiques, historical items, books, objects of local interest and beyond, and the unexpected.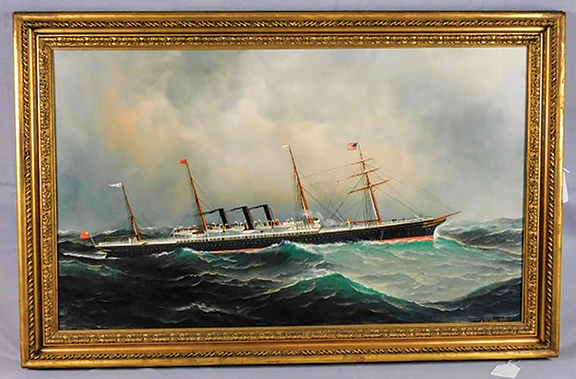 City of Rome by Danish/American artist Antonio Nicolo Gasparo Jacobsen (1850-1921) depicts a steam vessel of the Inman line that was considered by many to be the most beautiful to cross the Atlantic. Sadly, while the building contract stipulated a steel hull, iron was substituted, resulting in an exceptionally heavy ship. The 20½" x 34½" (sight size) oil on canvas is signed by the artist and dated 1885. It realized $8100 (est. $5000/10,000). It had been lined, cleaned, and restored, and came from the estate of Richard and Anne Webb of Marion, Massachusetts.
The August sale featured the local estate of Richard and Anne Webb, sailors, collectors, and philanthropists who traveled widely. Their interests included marine art and antiques, equestrian art and antiques, and fine books, as reflected in the items gathered.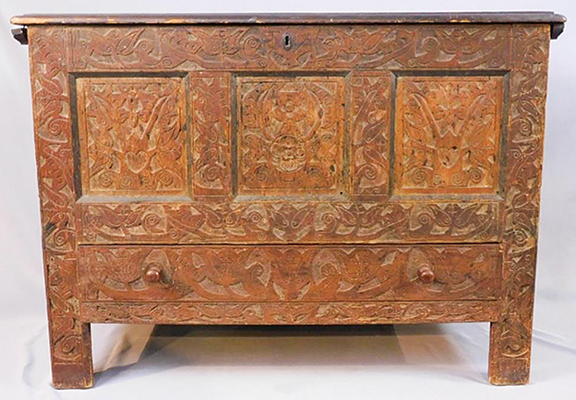 Known as "the Noble chest," this early 18th-century Hadley chest carved with vines, tulips, and hearts, with three recessed panels on the façade and the initials "TN" on the top rail, was likely made for Thankful Noble, born May 31, 1714, to Thomas and Elizabeth Dewey Noble of Westhampton, Massachusetts, and a cousin of Mary Noble. Estimated at $4000/6000, it realized $10,200. The chest was found in 1920 in Westhampton with only its top compartment. It was restored and purchased by Frederick W. Fuessenich of Torrington, Connecticut. It was acquired later from a Mrs. Andrews in Ashaway, Rhode Island, by the consignor. A letter about the chest from the buyers, dealers Annice Rockwell and her father, Edward Bradley, revealed that it is headed to a 1703 house in Southampton, Massachusetts, only five miles from where Thankful Noble kept it. The chest is illustrated in the 1935 book The Hadley Chest by Clair Franklin Luther; a note from the author accompanied the chest.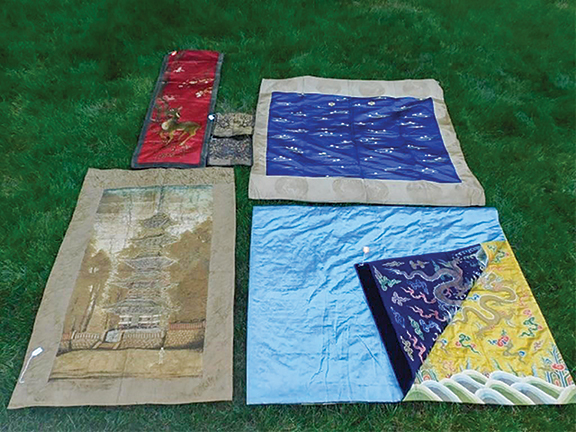 As he was finishing up clearing the Webb house, Frank McNamee checked a spot in the attic where he found a footlocker containing textiles wrapped in newspaper from the 1920s. Inside were six Qing Dynasty textiles from the 19th and early 20th centuries that had been acquired by a great-uncle, a lieutenant colonel and West Point graduate posted to China. Estimated at $150/250, the group brought $79,200 from a Hong Kong buyer.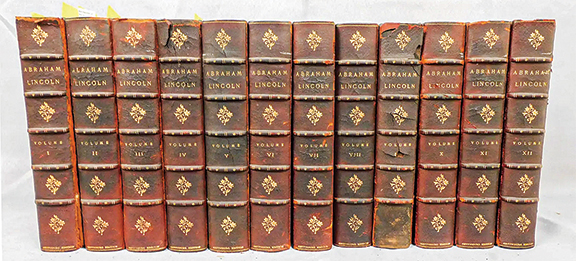 A deluxe set of the Gettysburg edition of Complete Works of Abraham Lincoln, a 12-volume set published by Francis D. Tandy and edited by John G. Nicolay and John Hay, Lincoln's secretaries, 1905, number 577 of an edition of 700, sold for $7500 (est. $2000/4000). Volume one included a tipped-in document, dated March 25, 1861, and signed by Lincoln, authorizing Secretary of State William Henry Seward to affix the seal of the United States to an envelope addressed to the king of Prussia.
A Hadley chest, known as "the Noble chest" for Thankful Noble, was bought for $10,200 (with buyer's premium) and will return to within five miles of its original home. A find in the attic of the Webb house was a footlocker with six Qing Dynasty textiles wrapped in newspaper. The group was estimated at $150/250 but went to a buyer in Hong Kong for $79,200. A 12-volume complete set of the works of Abraham Lincoln, published by Francis D. Tandy in 1905, had a letter with Lincoln's signature tipped into one volume. This Gettysburg edition brought $7500.
For more information, see (www.marionantiqueauctions.com) or call (508) 748-3606 or (508) 498-7136.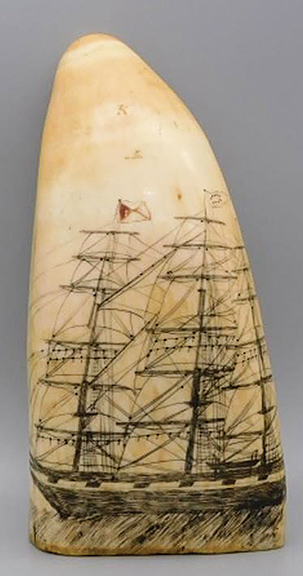 This scrimshaw whale tooth, 6½" long, engraved with the image of a British ship under sail, sold for $3360 (est. $1000/2000). It came from the Webb estate.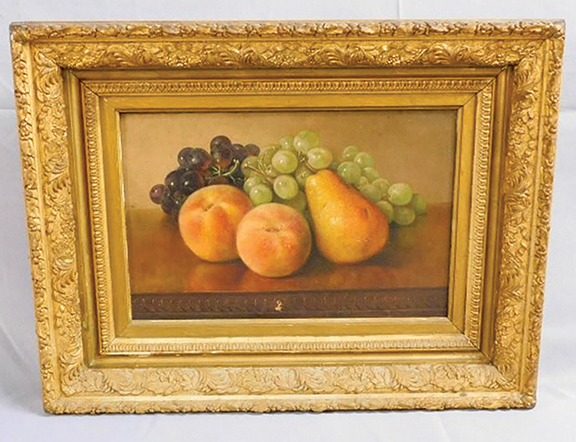 The still life with grapes, peaches, and a pear by Abbie Luella Manchester Zuill (1856-1921), a prominent Fall River school artist, is signed and dated 1891. The 9" x 14½" (sight size) work sold for $3960 (est. $2000/3000). Zuill studied at the Fall River Evening Drawing School with founder Robert Spear Dunning (1829-1905), and after his death she was selected to complete his unfinished paintings.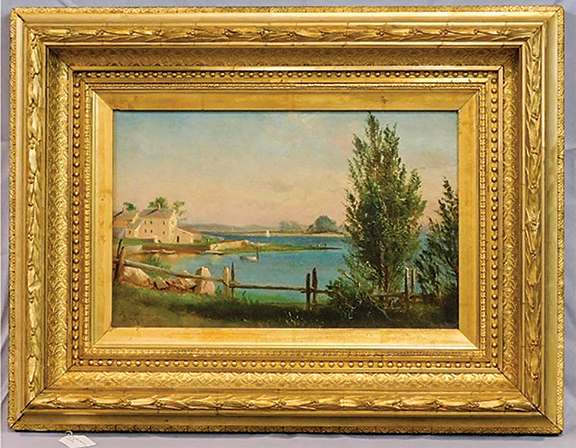 Massachusetts artist Charles Henry Gifford (1839-1904), the son of a ship's carpenter, interned in that trade and later in shoemaking. He volunteered in the Civil War and was a prisoner of war, after which he returned to Fairhaven, Massachusetts, and began to paint. He was self taught but lived and worked around area artists such as Albert Pinkham Ryder, William Bradford, and Albert Bierstadt. His 9" x 14" (sight size) view of his hometown, Fairhaven, on the Acushnet River, which divides Fairhaven from New Bedford, brought $3480 (est. $2500/3500). Not shown, Gifford's Salt Marsh Haying, an oil on canvas scene of Marsh Island on the Acushnet River, circa 1888, 7¾" x 16½", signed and dated "C.H. Gifford 88," sold for $7320 (est. $4000/6000).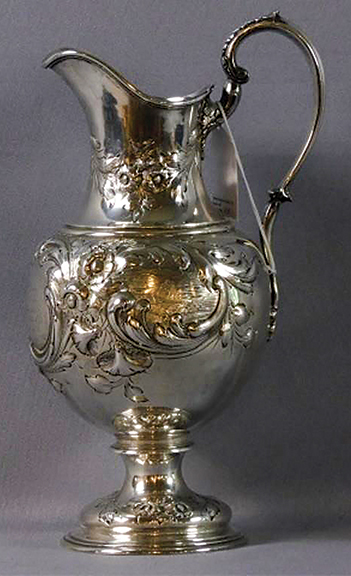 This coin silver presentation pitcher by Mulford & Wendell of Albany, New York, was presented to William C. Young, superintendent of the Utica-Schenectady Railroad, by his friends September 15, 1849. The occasion was his resignation from the Utica-Schenectady Railroad to become chief engineer and later president of the Hudson River Railroad. The pitcher is engraved with an image of a railroad bridge, two trains, and a railroad engineer or surveyor, believed to be Young (1799-1893). It had descended in the family and sold for $6300 (est. $3000/5000).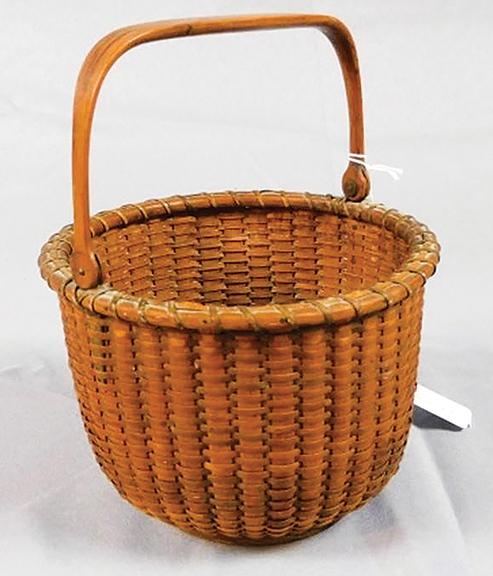 This mid-19th-century Nantucket lightship basket, 8½" high including the swing handle, retains a rich old patina and remnants of an old label. It is, as described in catalog notes, "nearly flawless," and it sold for $1560 (est. $500/800).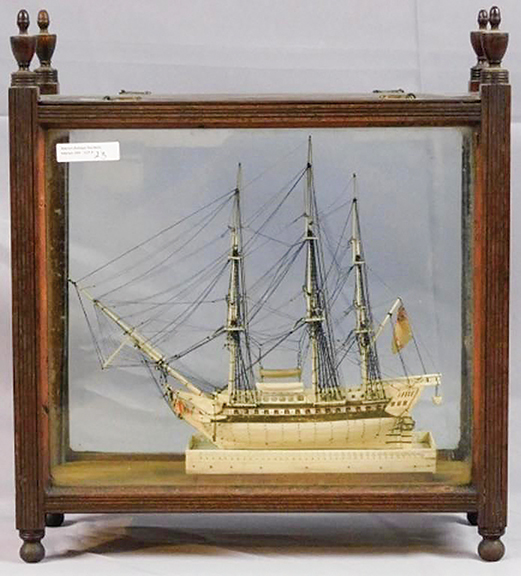 This bone and baleen model of a prisoner-of-war ship, Desiree, dates from between 1794 and 1817 and was made by a French prisoner in an English prison. The 38-gun ship was captured from the French and added to the British Navy. From the Webb estate, the approximately 10" x 11" x 3½" model sold for $10,800 (est. $7000/9000). The Webbs had acquired it in England.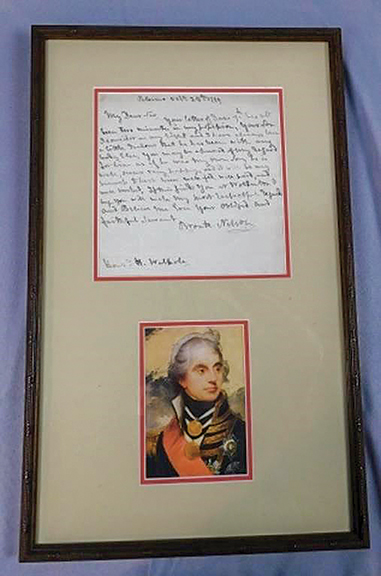 This letter of October 28, 1799, from Admiral Horatio Nelson to his kinsman Horatio Walpole provides information about the welfare of Walpole's son William, a midshipman under Nelson's command. Nelson had been given the Dukedom of Bronte in Sicily by King Ferdinand in 1799 for his assistance in driving the French and the Neapolitan Jacobeans from Naples. The letter is signed "Bronte Nelson." Mounted with a lithograph of Nelson and accompanied by a document of authenticity, it came from the Webb estate and sold for $3720 (est. $2000/3000).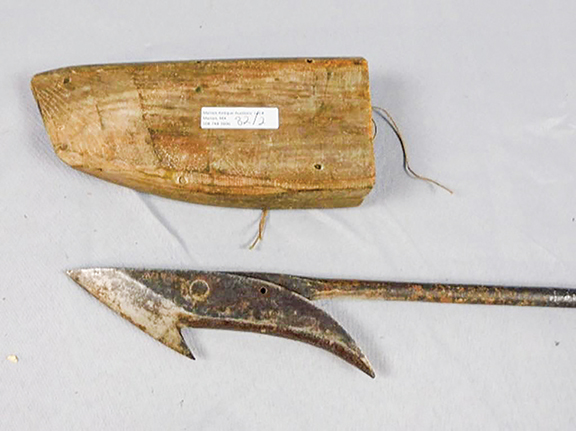 Marine blacksmith Josiah Macy (b. 1805) of Nantucket relocated in 1843 to New Bedford where three of his sons joined him in the business. The harpoon/toggle iron and the original wood sheath from the bark Mary Frazier, marked "M.F.," likely for the name of the ship, is also marked "MACY." Estimated at $2000/3000, the 30" long harpoon sold for $2400. It had been acquired from Nina Hellman Marine Antiques, Nantucket. Built in Newbury to carry cargo in 1832, the Mary Frazier was later registered in New Bedford and made whaling voyages between 1842 and 1899.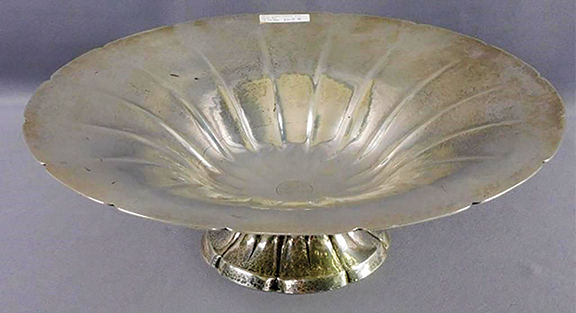 This Tiffany & Co. monumental sterling silver footed and ribbed center bowl with petal rims, 5" high x 15¼" diameter, is hand hammered and signed and bears the stamp "Special Handwork." Estimated at $1500/2500, the bowl sold for $2520.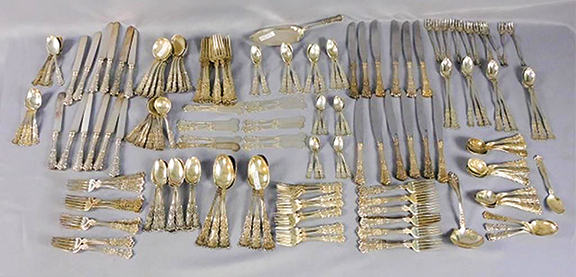 This 203-piece Gorham silver flatware service in the Buttercup pattern, circa 1920, estimated at $3000/5000 and with an approximate weight of 220 troy ounces, sold for $3840.

This Spencer repeating carbine rifle from the Spencer Repeating Rifle Company, established circa 1860 in Boston by Christopher Miner Spencer, sold for $2640 (est. $800/1200). The rifle became the standard arm for the Union army during the Civil War.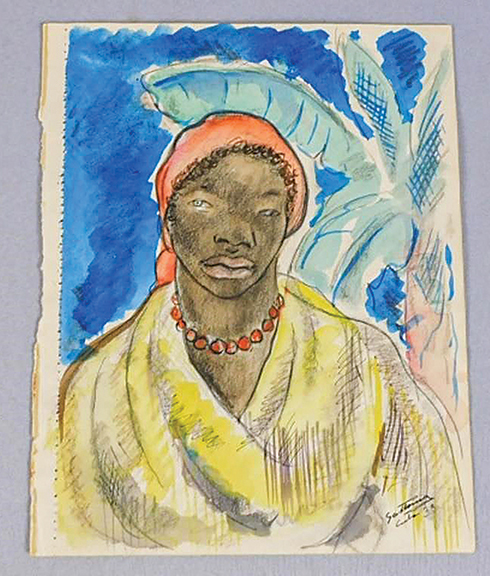 The 9½" x 7½" watercolor portrait by Antonio Gattorno (1904-1980) of a Cuban peasant woman with a necklace is signed "Gattorno, Cuba, '38" and sold for $1200 (est. $800/1200). The artist was among the first generation of modern Cuban artists. His first exhibition in the U.S. in the mid-1930s was sponsored by Ernest Hemingway and John Dos Passos at the Georgette Passadoit Gallery in New York City. Gattorno relocated to the U.S. in 1940; he lived first in New York and finally in Acushnet, Massachusetts.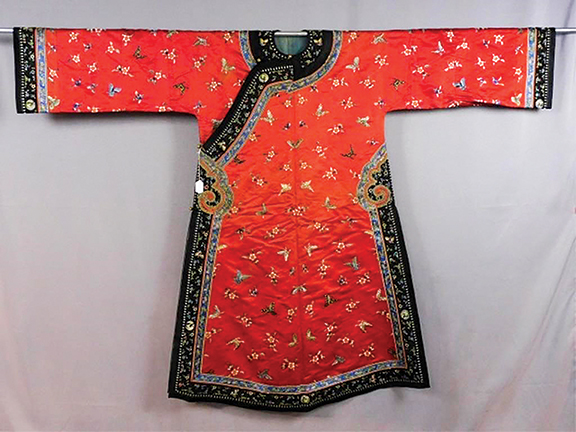 This 19th-century Qing Dynasty Manchu woman's silk changyi (informal robe) is embroidered with flowers and butterflies and lined with light blue polished cotton. Estimated at $800/1200, it sold for $7500. From the Webb estate, it is headed to a buyer in mainland China. All the textiles in the auction were pristine.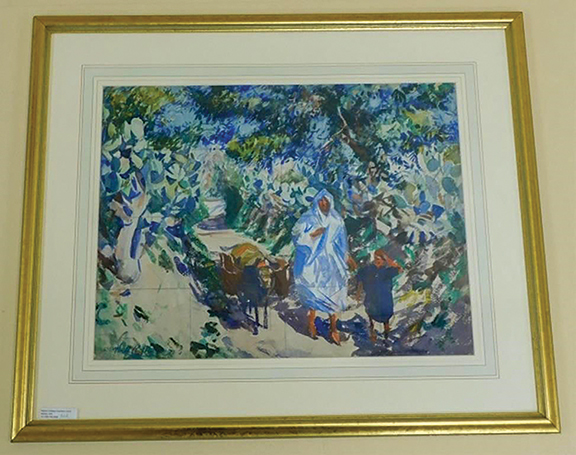 The watercolor study by Boston artist Aiden Lassell Ripley (1896-1969) depicts two figures with a donkey on a garden path in Grasse, France. The 14" x 18" (sight size) painting is signed and dated 1925 and sold for $570 (est. $500/700). Its provenance includes Alfred J. Walker Fine Art.
Attributed to Alden Spooner (1784-1877) of Athol, Massachusetts, this Federal cherry bowfront chest with satinwood inlay and pine secondary was made between 1805 and 1820. Spooner's use of native primary woods distinguished his work from that of others in eastern Massachusetts. The chest retains the original thistle brasses and brought $1440 (est. $2000/4000).
By Boston artist Thomas R. Dunlay (b. 1951), this 7¾" x 9½" (sight size) oil on board, Public Garden Spring, is signed and titled on the back "For A.J.W. from Tom / Public Garden Spring 80." It sold for $1800 (est. $500/800). ---
Originally published in the December 2022 issue of Maine Antique Digest. © 2022 Maine Antique Digest