There are many noted families that produced red earthenware in New England's 18th- and 19th-century pottery industry, such as the Parker family in Charlestown, Massachusetts, the Osborn family in Peabody, Massachusetts, and the Corliss family in Maine. These families often receive high praise today from collectors, museums, and scholars. It was once said to me by a prominent Maine collector that attributions are too often developed around these popular names, whereas there are many more equally talented potters who are rarely recognized. An example of this indifference may apply to the Dodge family's influence and production in New Hampshire and Maine in the 18th and 19th centuries.
The Dodge family red earthenware production actually began before the American Revolution, when Jabez Dodge (c. 1746-1806) arrived in Exeter, New Hampshire, circa 1771. He grew up in Essex County, Massachusetts, and it would seem that he was the first in his family to enter the popular local potter's craft. He must have apprenticed at one of the potteries in Peabody (formerly South Danvers). But that industry was already congested with dozens of potteries manufacturing red earthenware for the local area, with Salem, Massachusetts, serving as its major market.
This 19th-century jug was probably made at the Dodge/Lamson Pottery in Exeter. The form matches a jug owned by the New Hampshire Historical Society that is attributed to Exeter, circa 1840.
This 19th-century lidded jar, decorated with the word "STARCH" stenciled in slip, was likely made at the Dodge Pottery in Portland, Maine. This style of jar has previously been attributed to the Thomas Truxton Kendrick pottery in Hollis, Maine.
This chamber pot was recovered from a 19th-century archaeological context at the site of the Hart-Shortridge House in Portsmouth. It was probably made locally at the Dodge Pottery. Strawbery Banke Archaeology Department.
Many potters who owned a business during this period did not aspire to be just another business or try to compete with other companies that were already established. Instead, many of them wanted to be a go-to source for production with a booming economy, and Dodge may have felt that type of success would have been better found elsewhere.
Jabez decided to do what few Colonial Massachusetts potters had done before him—he decided to leave the state for opportunities elsewhere in New England. In fact, he was in a way a trailblazer, opting to make such a move three years before the important potter Peter Clark (1743-1826) left Braintree, Massachusetts, for Lyndeborough, New Hampshire. These were career and family-oriented decisions that many trained potters from the Peabody area and coastal Massachusetts would make in the 19th century, but it would appear that few dared make this decision before the American Revolution.
Dodge migrated to Exeter, a town near the New Hampshire seacoast, which was prosperous before 1775, although its manufacturing growth continued into the 19th century. Dodge was not the first potter to see this opportunity in Exeter. There were at least two other potters who had previously relocated from Portsmouth, New Hampshire, and the industry in Charlestown, Massachusetts, before 1760. However, those ventures do not appear to have lasted long.
Nevertheless, opportunity was not the only reason Dodge moved north; he also married Lydia Philbrick (1752-1826) from Exeter on August 15, 1771. She was the daughter of Lydia (c. 1729-1776) and Benjamin Philbrick (1721-1769), whose family later established the well-known Philbrick Pottery in Skowhegan, Maine. Marriages among potters' families were quite common during this period in New England, where many shared the Quaker faith. The history of Lydia and Jabez is a fascinating story to share today, since their marriage was responsible for the establishment of two more important potteries after the American Revolution.
The Dodge Pottery in Exeter, New Hampshire
Lydia and Jabez Dodge had 11 children, which included four sons born between 1774 and 1791 who were all active in the potter's craft. Benjamin, Joseph, Samuel, and John were all trained by their father at the Dodge Pottery at 84 Main Street, which was located near the heart of downtown Exeter and the Squamscott River, a river way that was once utilized by ships to float cargo to and from the Atlantic Ocean.
There is not a lot of identified pottery known to survive from this business today, although Massachusetts author Lura Woodside Watkins did visit this potter's site before 1950 while researching her book Early New England Potters and Their Wares. Her findings were similar to what archaeologists from Strawbery Banke Museum in Portsmouth recovered at the site of this pottery in 1994, when they received a grant to preserve whatever artifacts they could recover before the site was demolished in order to build the bank that stands at this location today.
Pitchers recovered from a 19th-century archaeological context at the site of the Hart-Shortridge House in Portsmouth, these were likely made locally at the Dodge Pottery. Strawbery Banke Archaeology Department.
Sherds (right) recovered at the site of the Dodge Pottery in Portsmouth match the milk pan (left) recovered from a privy at the site of the Hart-Shortridge House in Portsmouth. Strawbery Banke Archaeology Department.
Sherds (right) recovered at the site of the Dodge Pottery in Portsmouth match the milk pan (left) recovered from a privy at the site of the Hart-Shortridge House in Portsmouth. Strawbery Banke Archaeology Department.
Here's a closer look at one of the lion heads applied to the two-piece urn. Maine Historical Society.
The Dodges' production complemented what was produced elsewhere in New England. Those forms included traditional styles, such as jugs, jars, pots, pans, pitchers, and crocks. Archaeologists also recovered the remains of some slip decoration, but the extent of its use at this business is not known today.
Interestingly, there were also a number of colorfully glazed sherds that included mottled glazes, a style of glaze that is too often attributed to the 19th-century Osborn Pottery in Gonic, New Hampshire.
Ownership of this business changed hands upon Jabez Dodge's death in 1806, when his son Samuel (1783-1868) took control of the company. His brother John (1791-1865) was also likely still involved with the pottery, even though there are reports that suggest he was involved with family businesses elsewhere in New England.
Overall, production continued as it always had done, producing the expected utilitarian forms. Eventually, this business underwent a name change when Asa Lamson (1818-1900) gained ownership. Lamson was a potter and son-in-law who had been trained by Samuel Dodge and probably other potters at this business.
The vast majority of the artifacts recovered by archaeologists at this site pertained to the later production from the Lamson family, around the late 19th and early 20th centuries, and included stacked flowerpot wasters, utilitarian pots, and possibly objects that pertained to chimney safe production. But there was also a large collection of black-glazed sherds and wasters, which were similar to objects produced at the industry in Peabody. The forms included jugs, handled pots, and pitchers, which I would assume is a style produced in Exeter that is often attributed elsewhere today. Some of the black forms were even manufactured with a lead glaze on the interior that appeared brown.
The business in Exeter proved to be somewhat of a satellite location for the industry in Peabody, which saw potters from Essex County travel to Exeter in search of work. This business was also responsible for training a number of potters in the 19th century. Some of the original tools from this pottery and part of the building are still known to exist today, thanks to Henry Ford (1863-1947), who purchased this material along with the circa 1751 upscale John Giddings house in Exeter. He bought them for the historic Greenfield Village that he built in Dearborn, Michigan, in the 1930s.
The Dodge Pottery in Portsmouth, New Hampshire
As had his father, Joseph Dodge (1776-1849) decided to leave home after he had mastered his craft to oversee his own pottery. He acquired a company about 1796 that Winthrop Bennett had established in Portsmouth around 1789. It is unclear whether Joseph first left Exeter to work for Bennett or if he simply relocated for the same opportunity that his father in part had relocated for about 1771.
The Dodge Pottery in Portsmouth was a multi-generational company overseen by Joseph from around 1796 to 1849, and later by his son Jabez (1804-1884) until at least 1864. He and his brother Samuel (1814-1867) had trained under their father in Portsmouth, but Samuel also reportedly worked at the family business in Exeter.
This 19th-century flowerpot is glazed in vibrant green with bands of incised decoration. The pot was recovered in Portsmouth and may have been made by the Dodge family. Strawbery Banke Archaeology Department.
These two 19th-century green-glazed flowerpots were made at the Dodge Pottery in Portland, Maine. Maine Historical Society.
The business in Portsmouth proved to be a major local source of domestic red earthenware for well over 60 years. The pottery was conveniently located next to a tidal inlet from the Piscataqua River not too far from downtown Portsmouth. The location provided easy access to transport wares by water and was also located close to the center of town. Archaeologists from Strawbery Banke Museum excavated the site in 1980; findings were somewhat limited to small simple and colorfully glazed sherds, wasters, and kiln furniture. However, this pottery was given a much better definition when some of these artifacts were compared to objects recovered by archaeologists in the 1980s at the site of the circa 1760 Hart-Shortridge House on Deer Street, which was located less than one mile from the location of the Dodge Pottery. This middle-class-style house no longer existed, but archaeologists did conduct an in-depth dig before the Sheraton Hotel was built. They discovered a group of privies associated with the home's various periods of occupancy.
The archaeology has proven that the Dodge Pottery in Portsmouth was a major business for the area, with production that is often misattributed today as red earthenware made in Maine and elsewhere in New England in the 1800s. The recovered forms included colorfully glazed chamber pots, jugs, milk pans, and pitchers, although there was a collection of black-glazed objects recovered that were also probably made at the Dodge Pottery, such as porringers, small bowls, and mugs.
Charles Warren Brewster, an author from New Hampshire, in 1869 confirmed some of the objects that I just described. His writing also preserved how some of the wares made at the Dodge Pottery were distributed locally when he published Rambles about Portsmouth Volume 2 - Sketches of Persons, Localities, and Incidents of Two Centuries: Principally from Tradition and Unpublished Documents:
"At the foot of the hill in Portsmouth, in the old building, demolished ten or a dozen years since, a widow lady kept one of those little shops so numerous at Portsmouth in former years. Behind the counter were barrels and boxes of groceries, and upon the shelves above, pins, needles, thread, and other notions, with slate pencils, nuts and apples for the school boys. A cheese, whose excellence could always be relied upon, occupied a particular spot on the counter, and near by, arranged upon a line, were skeins of yarn, stockings, gloves, and mittens, taken in trade from country customers.
"Among the older stock, were relics of a former day, mugs and pitchers adorned with Porter, Perry, Bainbridge, Hull and other heroes of the War of 1812, and that now almost forgotten personage, 'Toby Philpot.'
"On the outer shelves was an array of crockery and earthenware, the latter with an especial eye to country trade, embracing, (from Dodge's Pottery), capacious milk pans, pots for beans or brown bread, jugs, pitchers for the haying field, and white mugs that would hold a full quart of cider."
The remains of a remarkable 19th-century red earthenware flowerpot adorned with an incredible green glaze and bands of incised comb work have also been recovered in Portsmouth, and they may also represent the pottery produced locally by the Dodges. But it is important to note that a Dodge Pottery in Maine was likewise known for its vibrant green-glazed flowerpots before 1876.
The Dodge Pottery in Portland, Maine
Benjamin Dodge (1774-1838) left Exeter in search of opportunity in Portland, Maine, in the 1790s. He became one of the few potters who produced red earthenware in the region before 1800. Archaeology has proven the area was largely dominated by exports from red earthenware potters in Massachusetts. There are, however, also some reports that credit Benjamin with establishing about 1801 what is known today as the first 19th-century potter's business in Maine, but records indicate this is also when he became a landowner in Portland. He eventually became owner of a tavern, where he may have sold and utilized some of the red earthenware that he produced. In addition, this Portland-based multigenerational business has also been the source of some confusion with pottery made in southern Maine and in England in the early 1800s.
These 19th-century black-glazed handle wasters with brownish interior glazes were recovered by archeologists at the site of the Dodge/Lamson Pottery in Exeter in 1994. Photo courtesy: Strawbery Banke Archaeology Department.
This 19th-century jug and the jar were possibly made at the Dodge/Lamson Pottery in Exeter, New Hampshire. The jug was discovered in Exeter. The jar closely resembles another jar that was found in a basement in an old house in Exeter in the 20th century.
Here is a rare 19th-century stamped jar from the Dodge Pottery of Portland, Maine. Dr. Mark Chaplin.
Because of 20th-century urban development there is no surviving archaeology known from this potter's business. But it is known that the Dodge Pottery once operated out of a brick building that burned in 1822. Afterward, Benjamin built another brick building that he used as a tavern as well. It was in these brick buildings that Benjamin and his son Benjamin Jr. (1802-1876) produced red earthenware near the waterfront in Portland for decades. Nineteenth-century advertisements from the pottery placed in the Eastern Herald and the Portland City Directory suggest that the Dodges produced all of the traditional forms of utilitarian red earthenware for the Portland area and probably locations elsewhere along the Maine seacoast.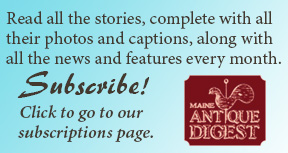 It is known today that this pottery did incorporate into some of its production a stamp, which was usually placed on the base—"B. DODGE / PORTLAND." This mark is known on a small group of surviving jars, which closely resemble a lidded jar that is often decorated with a lead glaze along with the name of a household ingredient stenciled in slip decoration. Some of these jars were also decorated with a marbled-type glaze. For decades now, this style of lidded jar has often been attributed without solid proof to the Thomas Truxton Kendrick (1827-1877) pottery in Hollis, Maine, but the production closely resembles what was made in Portland. These jars are also known to have been stamped on the base with either a number or a Roman numeral, which matched the stamp also found on the lid. A somewhat comparable but completely unrelated form was also produced in England. Other known marked objects include flowerpots and milk pans.
Flowerpots in various shapes and sizes were a major form produced in Portland, and presumably much of the production was sold locally. The Maine Historical Society in Portland owns an important marked red earthenware urn that was manufactured in two pieces and two flowerpots with attached saucers. These objects were donated to the museum in 1886 by a local woman named Alice Stephenson. They were all decorated with a popular vibrant green glaze, and the urn was further embellished on either side with the busts of two lion heads. This green glaze was regarded as special in the 1800s and was praised at the second exhibition of the Massachusetts Charitable Mechanic Association in 1839.
This type of production is referenced in part by a 19th-century document written by William Goold (1809-1890) that was acquired by the Maine Historical Society in 1928. Goold owned a general store in Portland that was located near the Dodge Pottery when it was in operation:
"Mr. Dodge made progress in his Art. He commenced to ornament the most expensive jars and pots, especially water pitchers made to order, making them with the initial letter of names.
"I remember one piece of ware made in 1825, on one side of which was purported to be a likeness of Lafayette, who was then the nation's guest, and having initials of the lady for whom it was intended on the other.
"On some of the ware made by Mr. Dodge were attempts at the likeness of animals and birds in relief and some modes in the glazing. Of those in relief the legs and tails of animals seemed to have been placed without due care. A horse would have the forward legs of a Giraffe and perhaps the tail of a cow. Cats had a severe curl to their tails like the tail of a nervous dog.
"Busts of people received more care. Most of these were in profile. After the pieces were finished they were set in another room to dry, and it was favourite amusement with some bad boys, whom the good men tolerated notwithstanding, to disfigure the human faces by drawing down the corners of the mouths to produce a ludicrous expression. This disfiguring, the potter did not observe until it was too late to mend, and it was fired in the kiln with the others, set away on the shelf, and sold at reduced prices."
It is also documented by Goold (and by some old handwritten letters which are privately owned in Massachusetts today) that unfortunately the elder Dodge suffered from "melancholy"or depression. This may have been the result of lead glazes. He eventually took his own life in 1838. It is also reported that Benjamin Jr. may have suffered from a similar state of affairs when he died in 1876. Afterward, the business was partially acquired by the Lamson family from Exeter, New Hampshire.
The Dodges and Their Contributions
It is unquestionable that the Dodges were a landmark family of potters, whose foundation likely began at the industry in Peabody before the American Revolution. This family ultimately established the industry that would materialize in Exeter in the 1800s. The family is also responsible for operating the two longest-standing red earthenware potters' businesses in Portsmouth and Portland, which were two major port cities during the 18th and 19th centuries.
The number of potters that this family influenced is largely unknown. Nevertheless, the Dodges are an important name in what took place along the New Hampshire seacoast and southern Maine. Their production was skilled, often creative, and colorful.
The Dodges' influence does not appear to have been limited to potters only. The poem Keramos, written by Henry Wadsworth Longfellow (1807-1882), was published in 1878. It depicts the story of a potter. It is believed that the Dodge Pottery in Portland was the source of inspiration.
Personally, when I think about all of the popular potter families that are so often referenced today, I also think about the Dodges and how much more they produced than what is commonly known. The production in Portland may have been the most artistic, but that skill originated in Exeter—a skill that is also represented in the wares made in Portsmouth, which are occasionally recovered at 19th-century archaeology sites along Portsmouth's waterfront and the North End and South End neighborhoods.
---
Originally published in the February 2018 issue of Maine Antique Digest.