Chicago, Illinois
From the inky skull stamped on the back of your hand upon entry to the pounding sound of goth metal music, it was clear this was a different kind of show. The Oddities Flea Market in Chicago April 1 and 2 opened with a line of people who paid $50 to get an early peek at bones, skulls, death masks, antique medical instruments, and other macabre memorabilia.
Playing their parts were vendors and customers who dressed unfailingly in all black and accessorized with platform boots, studded belts and collars, and chains and leather harnesses.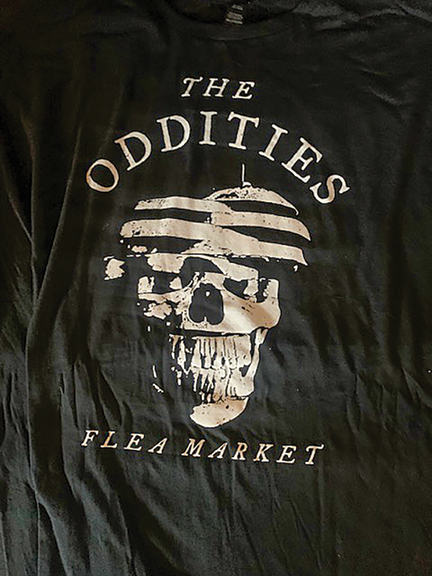 The Oddities Flea Market, which will be in Los Angeles October 7 and 8, made available this skull-emblazoned T-shirt for the goth and steampunk wardrobes of vendors and customers.
The market was organized by Ryan Matthew Cohn and his wife, Regina, of Connecticut. After closing his oddities store in New York, Cohn was coaxed by his wife into providing other venues for the community of curiosities sellers and buyers. A one-day market in Brooklyn, New York, in 2017 was "crazy, crazy, with thousands of people showing up," he said, and led to others in recent years in Chicago and Los Angeles.
Cohn, who was a host of the show Oddities on the Science Channel from 2010 to 2014, has a collection of what he calls the dark side of history. "It's heavily into antiques that are odd in nature, out-of-the-ordinary stuff," he said, including books on the occult, anatomical objects, and natural specimens.
On the second day of the market, Cohn led a sold-out workshop on assembling a cat skeleton. Other sessions included heavy-metal yoga and Victorian hairwork.
Some booths, such as those with jewelry, candles, and ceramics, riffed on the oddities theme with skull and crossbones designs on mugs and fantastically named fragrances. Others took artistic license with genuine curiosities such as creepy insects encased in glass, human hair mementoes, and taxidermied rodents in unusual tableaus. The final third of vendors assured would-be buyers that their artificial limbs, stuffed animals, and bones and teeth were genuine but not cruelly obtained.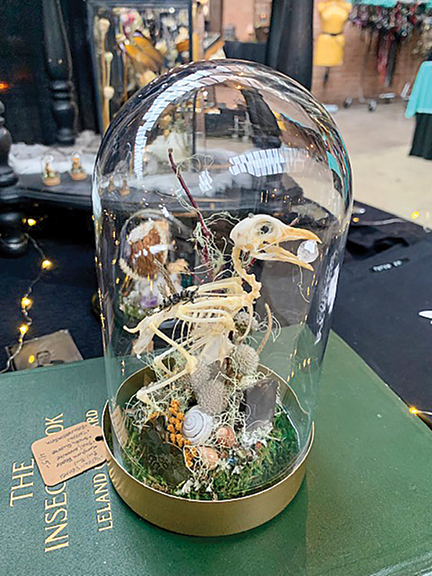 This articulated skeleton of a yellow-vented bulbul bird is perched in a "fantastical" environment created by Jess Ellis of Denver-based Atropos Curios. She is inspired by the curiosity assemblages of Victorian naturalists, she said, and calls her settings of insects, butterflies, and birds Curioscapes. This one was tagged $415, and it sold.
Jess Ellis of Denver, owner of Atropos Curios, prefers natural curiosities and explained how she sees and uses butterflies, insects, and birds.
"I try to bring attention to the beauty of the cycle of life and death. People don't appreciate the really small creatures, and in fact can be repulsed by them," Ellis said, but she added that they're vital in their own ways. She creates "fantastical environments" under domed glass for various articulated skeletons and insects, many of which she said were imperfect—having broken wings, faded colors, or missing limbs. She believes she's giving them new life as pieces of art while boosting the significance of conservation.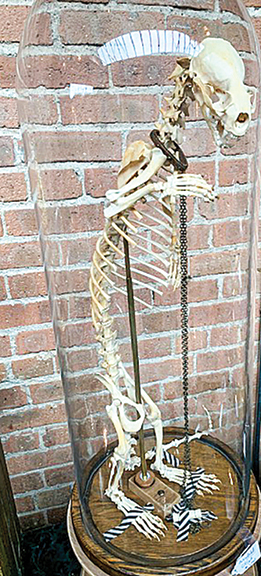 Artist Erik Cooper articulated this otter skeleton that was featured by Deirdre Hartman of Memento Mori, Los Angeles. Tagged $1200, it wears an aged leather collar and is housed in an antique glass dome.
Deirdre Hartman, co-proprietor of Memento Mori in Los Angeles, featured an articulated skeleton of an otter with an old leather collar under an antique glass dome. A taxidermied buzzard dating to 1908 and preserved bats hanging in old lanterns also were generating interest, she said.
No animals died for his purposes, said Joey Williams, owner of Nature's Oddities, Oklahoma. His skulls ranged from a deer's for $50 to a mule's for $250 and a ram's for $350. Jawbones of bison and cattle were $20 each.
Joey Williams, owner of Nature's Oddities in Oklahoma, displayed a box of bison and cattle jawbones, antique medical instruments, and an array of skulls ranging from a camel's to a ram's with horns. He acquires them as roadkill and from farms and ranches and cleans them.
"Collectors, artists, crafters" are among those interested in the bones who, he said, make use of already-dead animals.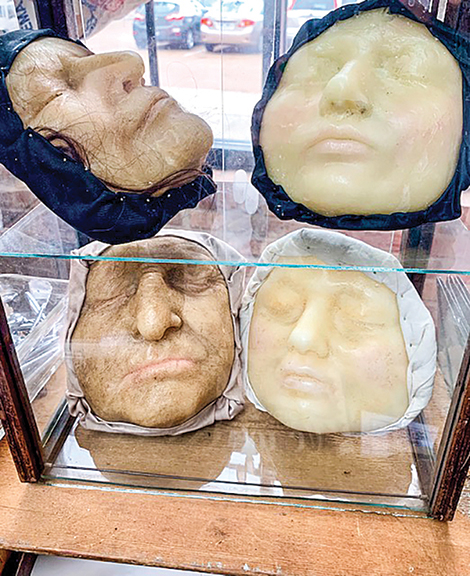 Skye Rust, co-owner of Woolly Mammoth, Chicago, brought death masks priced at $300 each. They were in fashion in the 19th century and could have been displayed for all to see or tucked away for only the bereaved, Rust said.
Skye Rust, co-owner of Woolly Mammoth in Chicago, offered wax death masks from the 1800s. They were acquired after being decommissioned from a Belgian museum, she said, and often would have been displayed in cabinets of curiosities as mementoes.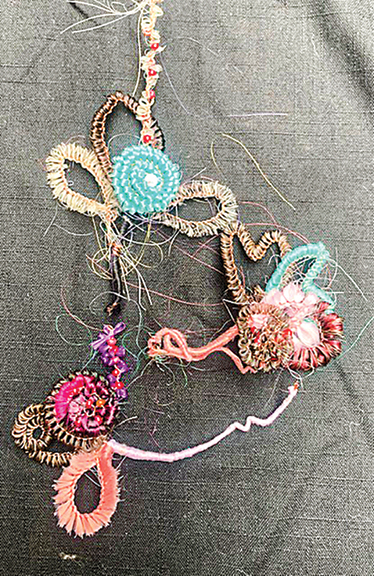 Flower motifs created by gimp wrapping were the products of a workshop taught by Karen Bachmann of New York. She brought bundles of horsehair to be wound around needles with wire to evoke the Victorian practice of hairwork.
Karen Bachmann, an associate professor at the Pratt Institute in New York, taught a workshop on another way to honor the dead—Victorian hairwork. While a loved one's hair could be preserved in jewelry or fashioned into decorations such as wreaths, she was focusing on how to make gimp-wrapped flower motifs using horsehair.
"I've been teaching this for fifteen years, and I've learned students want to come away having mastered something," Bachmann said. She teaches mortuary science professionals, textile artists, jewelers, art historians, and others how to wrap wire and horsehair around needles. The hair comes from tails, not manes, because length is important and longer hair is easier to use, she said.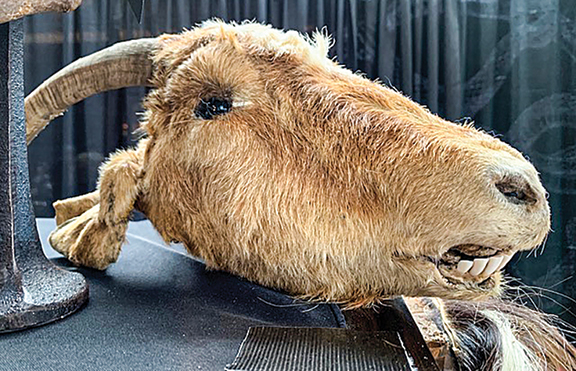 Amidst numerous skulls was this taxidermied goat's head in the Deadskull Curio booth. It carried a price tag of $300 and was an example of what vendor Dea Oganesian called the "gorgeous" preservation of select species.
The booth garnering the most attention was Deadskull Curio of New York, operated by Paul Abrahamian and his partner, Dea Oganesian. Among skulls, vintage apothecary jars, and a jug for cremains was a taxidermied goat head. Its underbite struck Oganesian as amusing.
"Taxidermy is something of the past that really doesn't make sense today, but it's an homage to life and death," she said.
For more information, check the website (www.theodditiesfleamarket.com).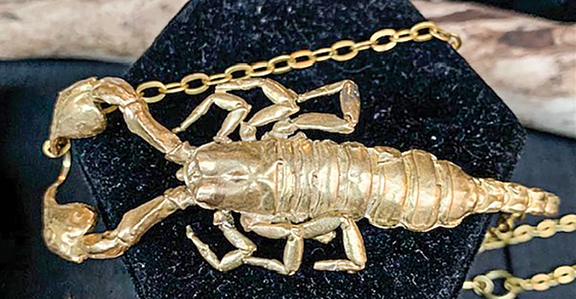 Cast from a real scorpion, this brass choker was fashioned by Christie Joy of Chicago, whose online business is called Paper Stranger. She had pieces of jewelry of other insects but said they were from models she made because most don't cast well. A collector since childhood, she priced the necklace at $220.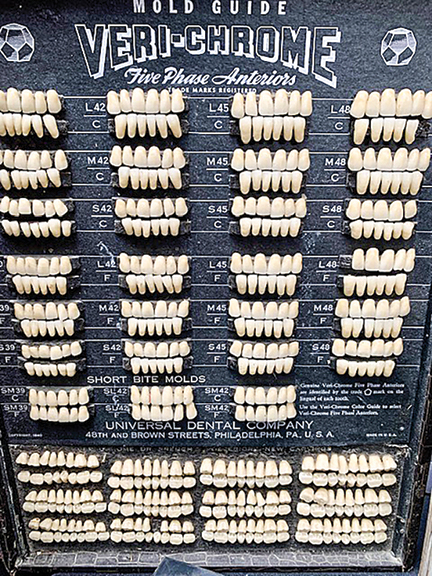 This Veri-Chrome guide showing teeth in various sizes and colors was from the Universal Dental Co. in Philadelphia. Circa 1940, it likely was used by a traveling salesman, said Anne Elliott of Sideshow Gallery, Chicago. It came from a private collection and was tagged $500.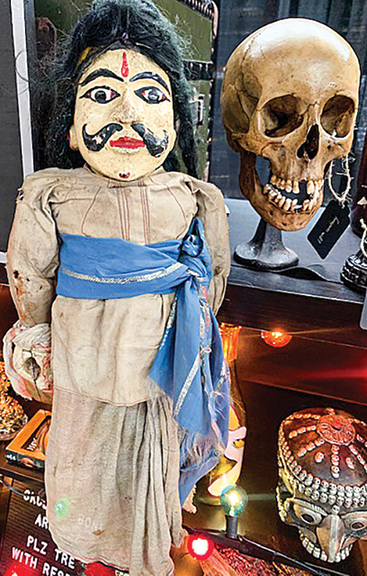 This male puppet with a face of composition and perhaps papier-mâché was hand carved in wood in the late 19th or early 20th century. Paul Abrahamian believes it and a female puppet (not shown) to be Southeast Asian. They appeared in folklore marionette shows for entertainment and celebration. Each was $325, or the pair was $575. ---
Originally published in the June 2023 issue of Maine Antique Digest. © 2023 Maine Antique Digest