New York City
The Salon Art + Design, held November 9-13, 2017, at the Park Avenue Armory in New York City, exploded with color—from the neon shades of yellow, orange, and turquoise on the show's catalog to the deep reds, pinks, and greens of the stones used by jeweler and lead sponsor Giampiero Bodino and the whimsical Wedgwood urns in bold crayon colors created by Michael Eden, displayed at Adrian Sassoon's booth.
Michael Eden, a potter for over 25 years at the Royal College of Art, London, used digital design and automated production skills to create his "Wedgwoodn't" series, which was shown at Adrian Sassoon's booth. "Sometimes I use colors that are traditional, sometimes not," he explained. "Technology makes this possible," he said of his 3-D-printed nylon vases with different coatings and finishes, which look like ceramic. Those on the top shelf were priced at $15,000. The ones on the bottom, redesigns of Wedgwood cauliflower teapots, were priced at $14,500 to $20,500.
Visitors to The Salon were oohing and aahing over jeweler Giampiero Bodino's holiday 2017 collection, ensconced in a historical room at the Park Avenue Armory filled with copious arrangements of flowers and fruits that looked like still life paintings. The jewelry designer, who started his career designing interiors of cars, worked for Bulgari for ten years and then its parent company, the Richemont Group, before starting his namesake jewelry line in 2012. Prices for this one-of-a-kind collection ranged from $40,000 to approximately $2 million. Fantastico!
The 56 booths popped with color—and thanks to lead sponsor Ruinart, champagne corks did the same, as 3500 attendees lined up for unlimited glasses of bubbly on opening night. It's always a party at The Salon.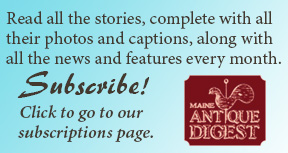 This time, galleries from Denmark and Spain joined the list of exhibitors, who came from the U.K., France, the Netherlands, Sweden, the United States, Italy, Switzerland, Belgium, and Germany. Dealers brought objects and images from the past 125 years with an emphasis on 20th-century and contemporary material.
Bernard Goldberg Fine Arts, LLC, New York City, showed works by American Modernists in its booth immediately to the left of the show's main drill hall entrance. Seen here is City of the Future, 1935-36, by Winold Reiss (1886-1953), oil on canvas, 58" x 72", which was commissioned for Longchamps Restaurant at 1450 Broadway, New York City. The 29" x 68" x 24" anodized aluminum console table with a replaced table top is by Warren McArthur (1885-1961). The table centerpiece with female figures, bronze and copper, is by Cecil Howard (1888-1956), as is the pair of bronze candlesticks with kneeling figures, each piece signed "Howard."
Richard Nagy Ltd. shared a booth with Yves Macaux. Seen here is Kees Van Dongen's Woman with Green Blouse, circa 1906, which Nagy said was on reserve and was priced in the range of $3 to $5 million.
Galerie Marc Heiremans, Brussels, specializes in 20th-century European art glass, with a focus on Murano glass. Seen here are historical pieces from the late 1920s through the 1960s of Murano glass from different glassworks. The coral-red bowls were priced between $5000 and $10,000, and the vases were $10,000 to $15,000.
Executive director Jill Bokor described the show this way: "I like to think The Salon has something new to offer with each edition, from the elegant and now classic forms of the twentieth century to the whimsical design that's being made today—the classics of the future."
This monumental vase by Felicity Aylieff, available from Adrian Sassoon, London, is called Still Life – A Moment in Time. Created in 2015 by the artist and three assistants in Jingdezhen, China, the thrown and glazed porcelain with hand-painted fencai overglaze enamel measures 605/8" x 26 3/8". It was priced at $58,000.
Gallery Fumi, London, exhibited for the second time at The Salon. Dreamcatcher IV is a 2017 sculpture by Rowan Mersh made of sliced turritella shells from the Philippines and was available for $66,000. The shells are sliced, ground, shaped, and polished by hand, and then bound together using fluorocarbon. The sculpture measures approximately 65" in diameter.
There were many red dots at J. Lohmann Gallery's stand, including on these two ceramic pieces by Sangwoo Kim. On the left is Spring, 2017. Winter, 2017, is on the right. J. Lohmann Gallery, which specializes in contemporary studio works of art, is located in New York City and open by appointment only.
The Friday to Monday show, with a five-hour preview on Thursday, gives visitors a chance to return with their designers and decorators—along with critical measurements—if they've seen something notable. Sales are made during the show, but Monday afternoon is particularly busy, with dealers selling and taking orders for custom pieces.
Lost City Arts, New York City, offered several paintings by Latvian-born artist Adja Yunkers (1900-1983). This untitled work, 1969, 69" x 48", was priced at $34,000. Marty Greenstein and owner Jim Elkind, who specialize in 20th-century design and fine arts, sold furniture and several sconces by Serge Mouille.
"What a young, fashionable crowd," remarked one visitor during the opening night preview, "but do they buy?" The answer is yes, with red dots accumulating over the run of the show, especially on decorative arts and lighting.
Although the crowd gave off a young vibe, there were plenty of dealers, designers, and collectors seen visiting The Salon who have attended and in some cases exhibited at many other Armory shows, including the Winter Antiques Show, the Art Dealers Association of America show, and TEFAF New York. Many were checking out the competition. Some made purchases.
The Salon Art + Design is produced by Sanford L. Smith & Associates Ltd. The first hour of the opening night benefited Dia Art Foundation. On Saturday there was a discussion called "The Artful Eye" led by architect/curator Lee F. Mindel and Margaret Russell, editor of Galeriemagazine. Tours hosted by designers and experts in the art and design field were also offered.
The captions and photos illustrate The Salon. Further information can be found at (www.thesalonny.com).
---
Originally published in the February 2018 issue of Maine Antique Digest. © 2018 Maine Antique Digest