The Vermont Antiques Dealers' Association (VADA) will move its annual show in 2018 from July to the fall, becoming part of the slate of shows referred to as Vermont Antiques Week. The show is likely to be held at the Stratton Mountain Base Lodge, Stratton, Vermont, although plans have yet to be finalized.
Greg Hamilton, manager and owner of Antiques at Stratton Mountain, will fold his show, allowing the VADA show to be held at the Stratton Mountain resort.
VADA held its annual show at the Stratton Mountain Base Lodge on July 21 and 22 this year, moving it from Woodstock, Vermont. It was a stand-alone show and reportedly not tremendously successful.
Complicating matters will be the dates of the shows. Traditionally, the Vermont Antiques Week shows have ended on the first Sunday of October. Every seven years, the calendar pushes the shows into the Columbus Day weekend. In 2018, the first Sunday of October will be October 7, during Columbus Day weekend. Continuing to hold those traditional dates will put the five shows in conflict with Frank Gaglio's revived Antiques at Rhinebeck show and with the ADA/Historic Deerfield Antiques Show, produced by the Antiques Dealers' Association of America. Hamilton would like to see the shows moved up a week for 2018 only, so that they occur in the last week of September.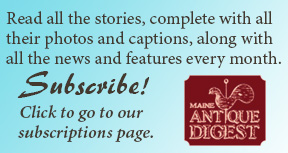 Kris Johnson, who co-manages the Okemo Antiques Show and the new Vermont Pickers Market with Steve Sherhag, said, "We have not discussed anything with all the promoters yet, but we're going to do what's best for Antiques Week in Vermont."
Johnson said they would need to figure out how many dealers they would lose to the other shows and determine the availability of the venues. "It's kind of a mild nightmare trying to figure this all out," he said, "but all the promoters have a stake in Vermont Antiques Week. It's all for one and one for all. It has to make sense for all of us."
Stay tuned.
---
Originally published in the November 2017 issue of Maine Antique Digest. © 2017 Maine Antique Digest