Wedgewood Society of Boston
For more than 50 years, the Wedgwood Society of Boston has brought together New England collectors, ceramics enthusiasts, and lovers of the decorative arts and history to share new findings, build greater understanding, and enjoy the fellowship of lively and engaging fellow members and guests. We welcome new participants to join us for our next meeting on Sunday, March 4, at 2 p.m. at Springhouse, 44 Allandale Street, Jamaica Plain, Boston. For directions, call (617) 522-0043.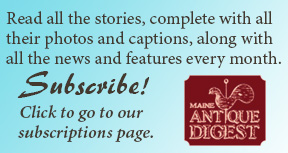 Jeffrey Hoffman, a longtime Wedgwood collector and researcher, will deliver an illustrated lecture on "Wedgwood's Portrait Medallions: Famous (and Some Not so Famous) Faces." Hoffman will speak about the portrait medallions produced by Wedgwood from the 1770s until the present. He will survey the motivation for producing the medallions and the range of subjects, materials, and design sources used by Wedgwood. The talk will feature many examples from the large and diverse Wedgwood collection assembled by Hoffman and his wife, Lorraine Horn.
This meeting of the Wedgwood Society of Boston is free and open to the public. Following the meeting, attendees may stay for conversation and light refreshments.
A Wedgwood black basalt medallion of Benjamin Franklin, marked for Wedgwood and Bentley, circa 1775.
---
Originally published in the March 2018 issue of Maine Antique Digest. © 2018 Maine Antique Digest