The Philadelphia Antiques & Art Show preview party on April 19, 2018, will take place in its purpose-built tent at the Philadelphia Navy Yard, and the show will continue on Friday, Saturday, and Sunday, April 20, 21, and 22. The tent will be pitched closer to the river than it was this year.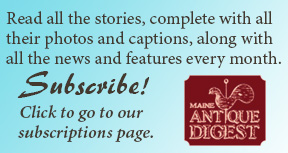 That is not the only change. After 53 years, the show will no longer benefit Penn Medicine. The new beneficiary will be announced in mid-September.
"Contracts have been sent to dealers," said show manager Diana Bittel, who will again partner with Karen DiSaia to run the show. "We cannot announce the beneficiary until their executive committee meets in September, but we have been told to go forward with plans," she said. "It is a perfect fit. The long tradition of the Philadelphia Antiques Show will continue with new energy, new ideas, and a new group of volunteers."
Stay tuned.
---
Originally published in the September 2017 issue of Maine Antique Digest. © 2017 Maine Antique Digest